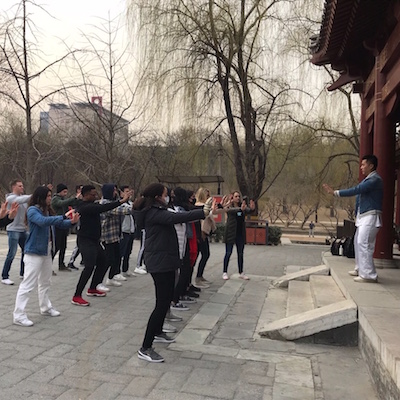 Students of CHIN 3605 and CHIN 3606 visited China during spring break and created an award winning video documenting their trip.
Modern Languages and Literatures offers a variety of global immersion opportunities. Global Immersion Courses are on-campus classes that take place during spring semester. They each include a week-long abroad trip during spring break. These courses allow you to get out of the classroom to study a topic in depth at the source with faculty experts. Most classes are open to all students, many fulfill at least one core requirement, and need-based financial assistance is available to help you go. If you want an abroad experience but cannot commit to a full semester program, or you want an international perspective on your major or minor course of study, a BCLA Global Immersion Course is a great way to grow your global imagination.
Learn more about upcoming Global Immersion Courses and past trips below. While some trips are recurring, course offerings vary by year and trip scheduling and availability are subject to change.
2020 Global Immersion Course Offerings
Due to COVID-19 the spring 2020 week-long global immersion trips were cancelled. We hope to offer these immersion courses again in the future.
CHIN 4208: Selected Topics of Contemporary Chinese Society

This course will help students develop language and literacy skills, as well as encourage exposure to and critical perspective on contemporary Chinese socio-cultural, political, and historical contexts. Selected topics cover diverse and ethnically relevant issues such as national festivals, travel and health issues, gender equality, and societal transformation. During the week-long immersion trip to Shanghai, Suzhou, and Nanjing, China, students will further their translingual and transcultural competence as they explore various historical and contemporary cultural sites including, Shanghai Museum, Lujiazui Central Business District, Presidential Palace, Confucius Temple, and more.

Download the flyer for this course here: Global Immersion in China Spring 2020

GRMN 3998: Berlin Stories: History, Memory, Literature

In this course, students will study the city of Berlin and how it remembers its past as a divided city during the Cold War with an initial focus on the role cultural artifacts play in the creation of memory. We will explore its culture, society, history, literature, urban sites, and cultural events, in an effort to understand Berlin's identity and the events that have impacted this city. From the city's occupation, division, and the Cold War, to the New Berlin, we will use each era of Berlin's history as a framework for our trip to Germany during Spring Break. With visits to neighborhoods, museums, and historical landmarks, as well as guided tours and lectures by local artists, we will experience the diversity and richness of Berlin today while uncovering the range of cultural and historical influences that have shaped the city over time.

Download the flyer for this course here: Global Immersion in Germany Spring 2020
Past Course Offerings and Travel Destinations
During the Easter break of Spring 2018, the upper division Chinese language classes took a week-long immersion trip to famous historical destinations in both Shanghai and Beijing, the capital of China. The trip gave students the opportunity to practice their Chinese skills through video reports and practical application of common phrases learned in the classroom while visiting such locations as the Great Wall, the Temple of Heaven, and the Summer Palace. Students also visited The Beijing Center, one of the only Jesuit centers of education in China, and participated in a tour of its facilities with current students who are studying abroad.

In this course, students developed their language and literacy skills while broadening their understanding of China today. During our trip to Beijing and Xi'an, we explored several sites of great historical interest and immersed ourselves in the culture and language. Our intercultural exchanges included guest lectures on Chinese culture and society, Tai Chi class, meeting local student buddies, and of course, enjoying Chinese cuisine.

One of our students, Meher Jhangiani, won Best Video in BCLA's Global Immersion Creative Works Contest 2019, for the video she created with footage from this trip. Another student, Cheyenne Weiss, won Best Written Piece for her creative work, "I Did Not Stand on the Great Wall and Feel Like a Tourist."

Watch Meher Jhangiani's award winning video here.

In the seminar "The French Intellectual Left", students analyzed and discussed the history and evolution of the French Intellectual from the French Revolution to the present in light of key events in modern French and global history, such as Imperialism in French Indochina and the War of Independence and Genocides, examined through the fiction, history of ideas, theater, and films dealing with the events. The class examined Universalism, Existentialism, Postmodernism, Colonialism and Post-colonialism, and the (Post)New-Left in France. Per a stronger focus on various aspects of the aftermaths of imperial culture in Ex-French Indochina, students traveled to Vietnam during Easter Break for a week of cultural study. Students visited Ho Chi Minh City in southern Vietnam, then experienced a day at the Mekong Delta on a boat trip; then from Saigon students traveled to Hanoi, its final destination in northern Vietnam. Students had to complete a photo essay such as this one by Zoë McCrum (French/Studio Arts).