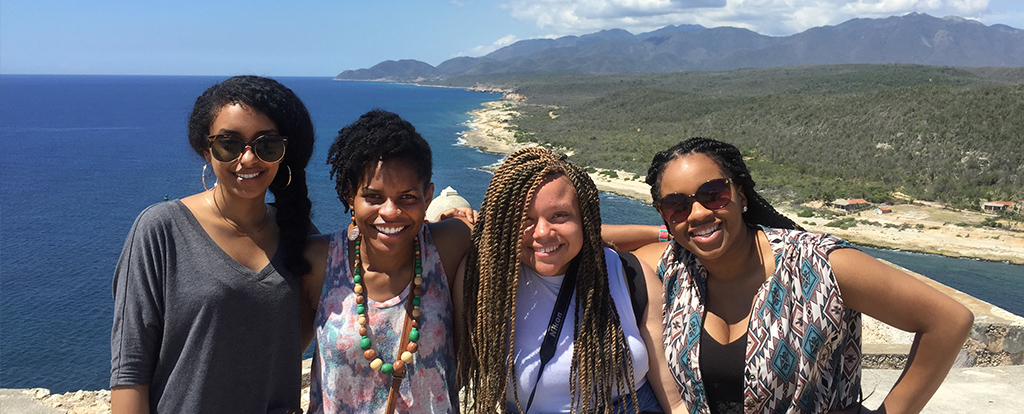 Change your perspective. Travel. Conduct research. Become an ethical leader and a global citizen by studying in a new setting and making real world connections to course material. Global learning in BCLA encompasses courses and experiences that seek to engage and understand local, regional, national, and international communities and issues. You will examine the historical, contemporary, and global contexts that shape people, places, and different ways of looking at the world. Participating in global learning builds cultural awareness and critical thinking skills that can be personally, academically, and professionally transformative.
Every spring, BCLA offers semester-long classes that take a trip abroad during spring break. Need-based financial assistance is available to support travel costs. The current courses include:

AFAM 3998/HEAS 3998/PSYC 3019: African and Black Psychology
Trip to: Accra, Cape Coast, and Kumasi, Ghana
CLST 3998: Mexico City/LA Comparison
Trip to: Mexico City, Mexico
IRST 3998/POLS 3630/PSYC 3998: Peace and Reconciliation
Trip to: Republic of Ireland and Northern Ireland
MDGK 3998: Modern Greek Playwrights: Influences and Performance
Trip to: Athens, Greece

See more information about BCLA Global Immersion Courses.

BCLA Domestic Immersion Courses are on-campus classes, which each include a multi-day domestic travel experience. With a Domestic Immersion Course, students can get out of the classroom to study a topic in-depth at the source with faculty experts. Classes can be open to all students or targeted towards majors. Need-based financial assistance is available.

There are over 50 study abroad programs all over the globe, and many are faculty-led and fit into liberal arts major curricula.

LMU Faculty-led programs:

LMU Semester in Croatia
LMU Semester in Germany
LMU Semester in London, England: Leadership London
LMU Semester in London, England: Study and Internship

Additional program locations:

Argentina: SIT Study Abroad Argentina
Auckland University of Technology, New Zealand
Augsburg University in Cuernavaca, Mexico
Augsburg University in Costa Rica, Cuba, Guatemala
Australia: Southern Cross University
Cardiff University, Wales
Champlain Montréal, Canada
China: The Beijing Center
Costa Rica, Cuba, Guatemala: Augsburg University
Ecuador: SIT Study Abroad
France: IAU Aix-en-Provence
Ghana: NYU Accra
The Hebrew University of Jerusalem, Israel
IAU Aix-en-Provence, France
India: SIT Study Abroad
Ireland: University College Cork
Israel: The Hebrew University of Jerusalem
Italy: Spring Hill Italy Center in Bologna
Japan: Sophia University
Mexico: Augsburg University in Cuernavaca
Morocco: SIT Study Abroad
New Zealand: Auckland University of Technology
NYU Accra, Ghana
Peru: SIT Study Abroad
Québec, Canada: Champlain Montréal
SIT Study Abroad Argentina, Ecuador, India, Morocco, Peru
Sophia University, Japan
South Africa: Service Learning Program
South Korea: Sogang University
Southern Cross University, Australia
Spain: Universidad de Deusto in San Sebastian
Vietnam: The Vietnam Center
Wales: Cardiff University
Washington, D.C.: The Washington Center internship program

Visit the Study Abroad Office to learn more about semester study abroad programs that work with BCLA majors.

Can't fit an entire semester into your schedule? Summer programs provide shorter abroad experiences for credit, like:

LMU Summer in Croatia
LMU Summer in Oxford, England
LMU Summer in New Zealand
LMU Summer in Paris, France
LMU Summer in Rome, Italy
LMU Summer in Spetses, Greece Odyssey Program

For details and more summer program options, visit the Study Abroad Office.

LMU and BCLA offer financial support for students who wish to study abroad.

Semester Abroad
Institutional aid via Financial Aid is available for some semester study abroad programs. Study Abroad Financial Assistance Grants support students who study abroad. The award is based on financial need and a project proposal.
Semester Abroad in London
Each semester, the Institute for Leadership Studies chooses one political science student to join the prestigious Hansard Fellowship Program in London, which includes a semester of study at the London School of Economics and Political Science, coupled with an internship in the British House of Commons. This competitive program covers the cost of studying abroad, is only open to political science and international relations majors.
Summer Abroad in Asia
The Ferdinand Verbiest, S.J. Award funds summer study abroad in Asia for history majors/minors, Asian and Pacific Studies majors/minors, and liberal studies majors with a history focus. Learn more via LMU Study Abroad or ask the History Department for application details.
Summer Abroad in Catholic Studies or Jewish Studies
Student Enrichment Funds in Catholic Studies and Jewish Studies can provide funding to Catholic Studies or Jewish Studies minors who participate in a thematically relevant abroad experience. Ask the program directors for Jewish Studies or Catholic Studies for details on qualifying programs.
Global Immersion Courses
Need-based aid is available to fund travel costs for BCLA Global Immersion courses each semester. In 2019, BCLA provided at least partial support to all qualified applicants, over $100,000 in aid total.