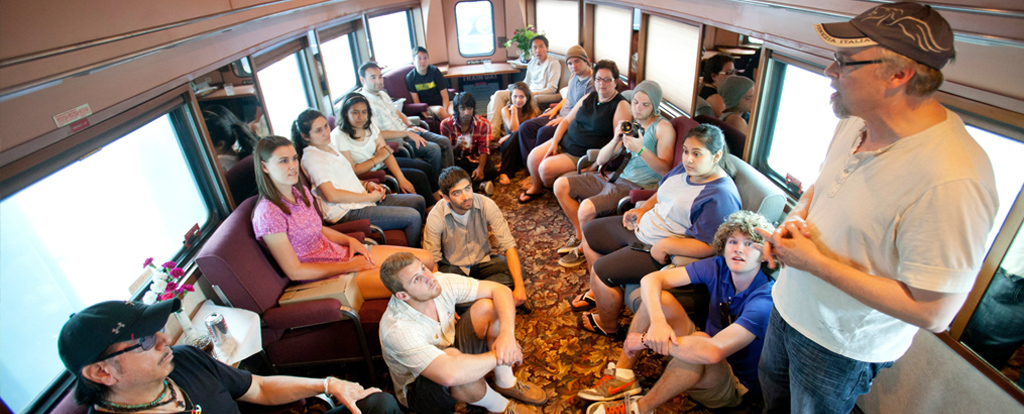 Get off the bluff. Apply your classroom knowledge to important social issues. In Engaged Learning (EL) classes, the world is your classroom. An EL course might include field research, off-site service, or even international travel. One class with an Engaged Learning core flag is required for graduation. Make it count by picking one that enriches your academic or professional interests.
Have questions? Talk to your faculty advisor or the BCLA Advising Center about how to sign up for the EL class that most interests you.
There are a variety of Engaged Learning courses offered in virtually every major. But how do you know which is right for you? Different EL courses include different experiences, such as:

Community-Based Learning
CBL courses collaborate with the surrounding community to do meaningful, hands-on work in the real world. For example, an African American studies course helped teach African American history to local high school students.
Faculty-Mentored Research
EL courses also feature a research component, like a social research course where students interviewed women who were getting out of prison.
Internships
Some EL classes include an internship in addition to course time. In one course, students interned for the LA Greek Film Festival to review Greek films.
Study Abroad
EL courses can even take you abroad! An Eastern Christian Traditions course went to Ukraine to study religious traditions amongst college students.

African American Studies

AFAM 3321 African American History
AFAM 3643 Black Community Engagement
AFAM 3432 Black Families
AFAM 3992 (fe)male Relationships

Asian Pacific American Studies

APAM 2417 Contemporary Issues of Asian Pacific Americans

This course examines contemporary issues facing Asian Pacific Americans, including themes of immigration and settlement, economic and social integration, political and community empowerment, and more. Students will use our location in Los Angeles to conduct research that examines and understands the social lives of Asian Pacific Americans.

Classics & Archaeology

CLAR 2240 Ancient Greece

This course is a survey on ancient Greek civilization from its origins in the late Bronze Age to the Hellenistic period (1500–400 BC). Students will draw on contemporary sources to debate the Reconciliation Agreement between Athens and Sparta and will stage a trial for Socrates.

CLAR 4360 Greece to Gotham, Arch of Hero
CLAR 4380 Archeology Field Experience

English

ENGL 2206 Language of Journalism (also JOUR 2100)

This introductory course focuses on theoretical and practical journalism fundamentals. Students learn what sets journalism apart from other kinds of writing and spend a fair amount of time off campus, attending public meetings and events, conducting interviews and reporting on issues and people in Los Angeles.

ENGL 3375 StreetRead

Students will respond critically to literature in the classroom and run reading groups in the community.

ENGL Writing internship in Media (also JOUR 4402)
ENGL 4998 Into the Desert

Environmental Studies

ENVT 4001 Environmental Studies Capstone Seminar

French

FREN 3450 Stylistics and Translation

This workshop will focus on the techniques of translation from French into English (thème) and from English into French (version), in a diversity of contexts. Students will complete a translation project.

History

HIST 2910 Telling History in Public

This course introduces students to the study of history, including historical method, the writing of history, and historical interpretation. Students will engage in the practice of public history – identifying appropriate sources, reading critically and analyzing sources, paying particular attention to audience, narrative, and representation.

HIST 3910 Museums and Society

Journalism

JOUR 2100 Language of Journalism

This introductory course focuses on theoretical and practical journalism fundamentals. Students learn what sets journalism apart from other kinds of writing and spend a fair amount of time off campus, attending public meetings and events, conducting interviews and reporting on issues and people in Los Angeles.

Jewish Studies

JWST 4400 Interreligious Experience & Engagement

This seminar explores fundamental questions of faith and identity through a close examination of the interaction of diverse religious traditions. Students will interact with faith leaders and practitioners engaged in interreligious dialogue, and analyze the positive and negative roles of religion in conflicts.

JWST 4340 Literature of the Holocaust

Political Science

POLS 3210 Congressional Politics

A study of the workings of the U.S. Congress with an emphasis on the legislative process. Course is primarily conducted as a simulation of either the House or Senate.

POLS 3440 Politics in the Middle East
POLS 3350 Elderly and the Law
POLS 3800 Political Internship

The academic component of a supervised internship in an agency in Los Angeles or Sacramento. In addition to the internship, the student must meet regularly with a faculty member selected prior to the start of the internship and write a research paper.

POLS 3920 Latina/o Politics (also CHST 3998)
POLS 3998 Directed Internship

Psychology

PSYC 3998 Peace and Reconciliation (also POLS 3630)
PSYC 4033 Community Psychology

This course introduces students to the rigorous academic discipline of community psychology. Students will gain an understanding of the role, functions, and responsibilities of a community psychologist working with and within community organizations.

PSYC 4100 Psychology and Education

Spanish

SPAN 2804 Stylistics and Composition

This course is an introduction to writing and editing in Spanish. It highlights writing as a process by guiding students through the different stages required to produce college-level compositions. The course also includes the development of the spoken formal register through oral presentation.

Sociology

SOCI 3340 Social Movements

Theological Studies

THST 3282 Buddhism

This course will investigate the historical origins and theological developments of Theravada, Mahayana, and Vajrayana Buddhism, and also explore Buddhism in America.

THST 3283 Hinduism, Jainism, Yoga

This course will examine key ideas from the Vedas and Upanisads, the ethics of Jainism, and the spiritual practices of Yoga.

THST 3241 Meeting Christ in Faith & Art

A study of the ways Christianity has formed and explored the figure of Jesus Christ interlaced with creative expressions in multiple art forms.

THST 3998 Black Theology
THST 3998 Practice of Everyday Life (also CATH 3998)

A critical examination of ordinary practices of everyday life as a source for spiritual knowledge and social-political transformation.

THST 3998 World Religions & Ecology

This interdisciplinary service learning course will explore how religious ideas and practices can respond to the contemporary environmental crisis.

THST 3240 Water, Word, and Wine

This course will explore how Christian sacraments reveal what Christians believe and how they understand and relate to God by closely examining select ritual practices. Students will explore rituals such as Baptism and Eucharist, and attempt to articulate their meaning by defining symbols such as water, food, oil, and the role of the body in worship.

Urban Studies

URBN 4000 Senior Project

A supervised internship and directed research on a specific urban topic incorporating appropriate primary and secondary research methodologies and/or participant observation. Senior standing or approval of the Program Director required.

Women's and Gender Studies

WGST 3100 Feminist Research Methods

Examines feminist methodologies through hands-on research and considers the complex relationships between researchers and their subjects, the impact of social location on our field of vision, ethical issues in the research process, as well as research that facilitates social and gender justice.

WGST 3200 Gender, Race and Environmental Studies
WGST 3800 Gender and Urban Geographies

Current students can search for all of the EL courses in PROWL by looking up courses by Attribute. Here's how:

Under the Student Services tab, click "Registration"
Click "Look-up Courses to Add"
Choose the term you would like to take the Engaged Learning course
Under the drop-down menu, click the button on the right which says "Advanced Search"
Click the Subject Box and then hit "Control/Command + A" on your keyboard to select all subjects
Scroll down to Attribute Type and select "FLAG: Engaged Learning"
Click on the "Section Search" button

This will generate a list of all EL flagged courses offered that semester.