Faculty Tribute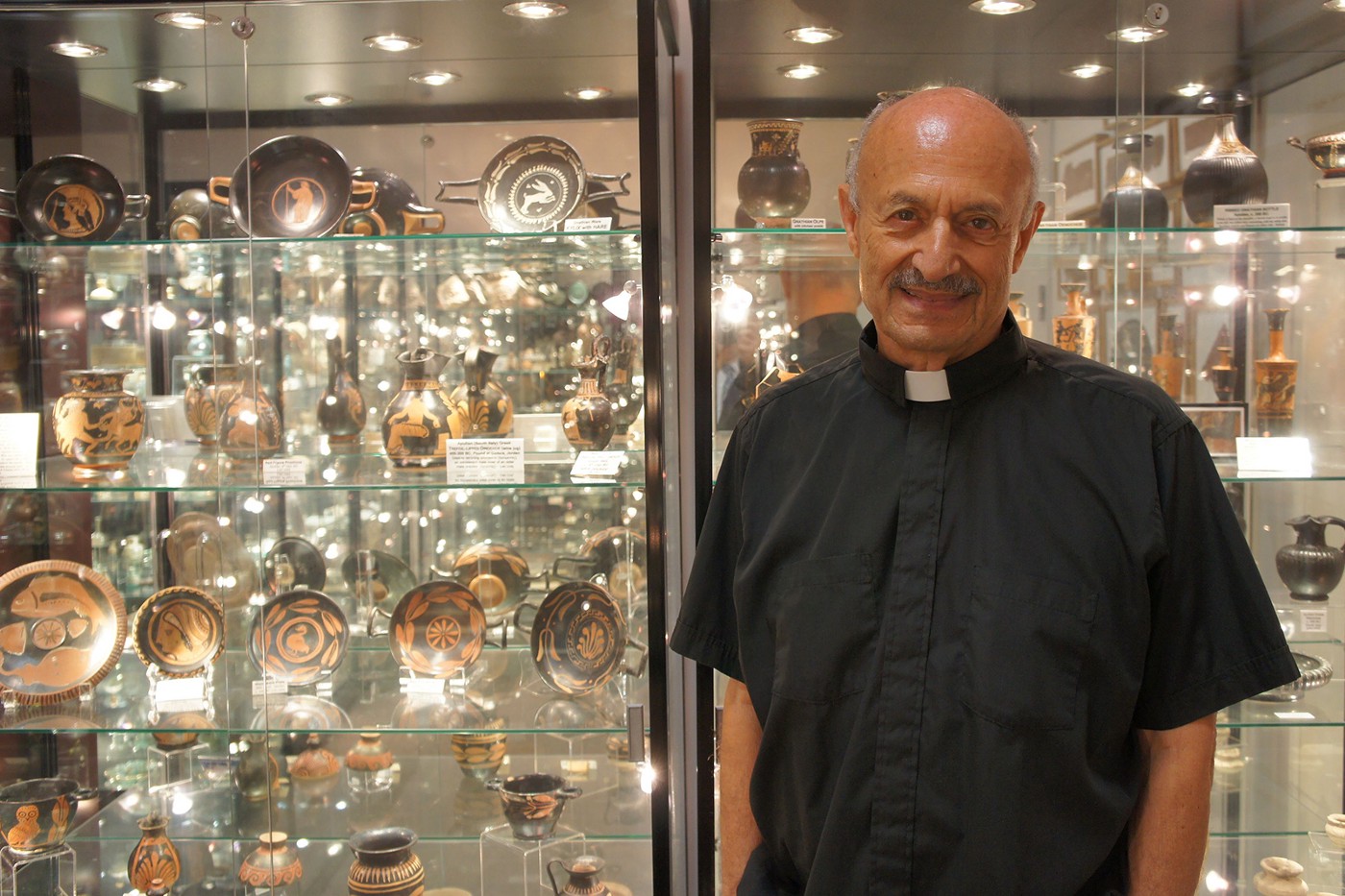 In Loving Memory of William J. Fulco, S.J. (1936–2021)
Fr. William "Bill" Fulco was born on February 24, 1936 in Los Angeles, entered the Society of Jesus on Aug. 14, 1954 at Sacred Heart Novitiate in Los Gatos, and was ordained June 8, 1966 at Blessed Sacrament Church in Hollywood. He pronounced his final vows on Nov. 5, 1972 at the Jesuit School of Theology at Berkeley and earned his Ph.D. in Near Eastern languages and literatures from Yale University. He passed away on Sunday, Nov. 28, 2021 at Sacred Heart Jesuit Center in Los Gatos, California. Father Fulco was 85 years old and a Jesuit for 67 years.
Scholar, teacher, curator, mentor, and raconteur are among the roles Father Fulco played after he joined the LMU faculty in 1998. Among his many accomplishments, Father Fulco established a museum-quality collection on campus which is now the LMU Bellarmine College of Liberal Arts' Archaeology Center.
A popular teacher, Father Fulco's courses covered a broad range of topics: God and the world of ancient Israel; ancient religions; music culture in ancient Palestine; ancient Near Eastern languages; Near Eastern archaeology; biblical archaeology and Old Testament studies; and classical numismatics. Father Fulco traveled the world exploring those subjects, and more; he also made archaeological travel available for our students by inspiring individual donors to sponsor their travel. In 2007, LMU recognized him with the Fritz B. Burns Distinguished Teaching Presidential Award, one of the highest honors bestowed on faculty by the university. His acclaimed wit made him a sought-after speaker for gatherings of intellectuals, parents, and friends of the university. Fr. Fulco was a tireless AA sponsor who helped so many to sobriety.
Farewell dear Bill, "Abuna", friend, colleague, mentor.
You are greatly missed and will always be remembered by all those you have touched.
As a young Jesuit I had heard about Bill Fulco long before I met him. But when I was at JSTB in Berkeley to do my theology, now over 50 years ago, Bill showed up to join the faculty. He had just finished at Yale. I met him on a street corner, a short figure with alert black eyes and full of energy, barely repressed.

He poured that energy into his work, as a biblical scholar, archaeologist, curator, raconteur, and teacher and mentor, and master of Near Eastern Languages —once when we were enjoying a drink, he wrote some ancient Babylonian epigrams in cuneiform on cocktail napkins—they were rather risqué—I won't repeat them here. He did the Aramaic translation for Mel Gibson's "The Passion of the Christ" and was working on two other films.

He had an incredible curiosity about all things, people, languages, and places—he loved to travel.

He loved animals, especially bunnies. Over the years he had various pets, each invested with names and complex personalities, the products of his incredible imagination. My favorite, a brightly colored parrot he had at Berkeley—he named him "Hot beak," as the bird would occasionally chomp on Bill's rather prominent nose. In his room, he kept two finches, one of whom he had diagnosed as psychotic. He also had several koi in the patio pool, an aquarium in his office filled with various creatures, each with a name and personal identity, some quick and energetic, one large, sluggish, frog-like bottom dweller who emerged only at feeding time. He fed the squirrels, including one he called Squirrel Bob, who would attack our feet, expecting similar treats.

He was certainly a scholar. He had a numismatic collection of incalculable value, which he built up in part by his skill at challenging dealers that he could identify unknown coins in their collection if he could purchase them at half price. His collection of Near Eastern artifacts, tablets, and Old Testament studies is museum-quality, and he taught his students how to identify and reconstruct broken exhibit pieces and tablets—it was wonderful to see them doing this in the workshop attached to his museum.

In the gospel Jesus says: "I give praise to you, Father, Lord of heaven and earth, for although you have hidden these things from the wise and the learned you have revealed them to little children." And there was something of the enthusiasm and curiosity of children in Bill. He was a collector. His office was filled with soft drink cans, little figures, often grotesque, hats, pictures, books, mementos of his travels. There was little free space, and his door was covered with cartoons from the New Yorker.

He was a phenomenal teacher—his classes always over-subscribed.

He had a great sense of humor. But he was also a man of faith, not pious or demonstrative, but a believer.

And there was a serious side to Bill. His life was neither easy nor uncomplicated. The Book of Wisdom could be describing Bill when it says of the just man, "For if before men they be punished, yet is their hope full of immortality. Chastised a little, they shall be greatly blessed, because God tried them, and as sacrificial offerings he took them to himself."

He never did anything by halves. He smoked too much, drank too much—Camels unfiltered, scotch on the rocks. Eventually he had to go into treatment for alcoholism. Against all bets, he stopped drinking and smoking and stayed sober henceforward. In recovery, he became a counselor and support person for others, giving retreats for those with similar problems and taking their calls when they were in trouble, sometimes in the middle of the night. At our Vigil last night, one member of the community with a similar problem told us that when he went to AA meetings, Bill always accompanied him.

But that was typical. Bill was like that. His favorite evangelist was John, who reminds us that God is love and so were we to love another. In his first of three letters John wrote:

We know that we have passed from death to life because we love our brothers and sisters. Whoever does not love remains in death. Everyone who hates his brother is a murderer, and you know that no murderer has eternal life remaining in him. The way we came to know love was that he laid down his life for us; so we ought to lay down our lives for one another.

Bill did his best to live that out. His students loved him, and he them. No one who visited his office didn't know that they were welcome. He made you feel special; you had his full attention. He was especially devoted to the brothers of SigEp. They have established a "balanced living" scholarship in his memory.

No one who knew Bill would make the mistake of thinking that Jesuits were all formed in the same mold. He was unique. And we valued his companionship.

Rest in peace Bill. We miss you.

Thomas P. Rausch, S.J. (Emeritus Professor of Theological Studies)

It was 2001, my freshman year of high school, and I sat down for a course titled "Introduction to Jesuit Philosophy". I can still hear the voice of the old Jesuit that bellowed from the front of the classroom: "Gents, I don't care where you came from, or what you believe, I want you to know that God will meet you wherever you are."

Fast forward 20 years, and I'm standing before you with this distinct honor, and also burden, of trying to capture the essence of a man who is beyond description. Jesuit? A devoted one. Linguistics scholar? World renown. Archaeologist? None more accomplished. Fraternity brother? The most devoted. AA Sponsor? The most trusted. The list could go on – and for many of you sitting in this crowd or watching from home, I'm confident each of you could come up with several additional nouns to describe Fr. William Fulco, S.J. But, my guess is that like me, you also know that none of those nouns really do him justice. Does describing Fr. Fulco as your "wedding officiant" or "professor" really explain who he is or what he means to you?

It's not that I wasn't given the opportunity to prepare for this moment. The blank stare I would get from people when I would try and explain why I was jumping on a plane flight to go see Tahrir Square in Egypt a year after the Arab Spring with a 75 year old priest should have signaled to me that I wasn't then dealing with just your normal guy. But, it doesn't make this task any easier.

So, I spent a lot of time thinking about why I, and if I may project onto this group for a moment, why we—everyone sitting here today and watching from home—have such a difficult time describing who Fr. William Fulco, S.J. really is to us, and why he means so much to each one of us.

The answer I have come to is—probably—unsatisfyingly simple: He was exactly the person I needed in the moment I was in. Sometimes he was my professor, capable of connecting my most unsophisticated analyses to the answer I was searching for. Sometimes he was my best friend, capable of sharing my joy and also embracing me in my times of desolation. And, sometimes he was my most honest mirror, capable of showing me gifts and faults that I did not know were there before.

The easy ending to this eulogy is to say "and that was his gift"… to say that this ability to connect with me – to be the person I needed most in the moment that I was in—was simply his God-given talent, effortlessly deployed at the flick of a wrist. But, what a disservice that conclusion would be to the life that he lived. It would skip right past the selflessness attached to the 2 AM bedtimes and the 6 AM alarms that so frequently attached to the late night fraternity meetings and the early paper grading. It would dismiss the redeye flights and the miles and miles walked just to "experience a bit more of the human condition". And it would ignore a lifetime of service to the Jesuits when his brilliant mind could have very well made him wealthier than his wildest dreams, if he had so chosen.

But, he chose something different.

Before Fr. Fulco breathed his last, he gave to me a series of journals that he had been keeping since the late sixties. I've been able to read a small fraction—each is rich with detail and meticulously crafted—but my conclusion so far is clear: Fr. Fulco, S.J. dedicated his entire life to building a tool-box of experiences, emotions and skills so large, and so powerful, that when called upon, he could effortlessly draw upon any tool he needed in order to meet me—and each one of you—exactly where we were in that moment. This was not some God-given gift that came from the heavens. No. Rather, it was a beautiful combination of experiences, reflection, and wisdom that was intentionally created by devoting his entire life to this craft. It was his life's work.

Now, I recognize that my conclusion – that maybe the magic of Fulco is not just some God-given gift that he could wield on command—may demystify the man that we all came here today to celebrate.

But, I actually arrive at the opposite conclusion. It wasn't easy for him. He didn't naturally do the things that you and I all love him for. He worked at it. He grinded at it. He dedicated his whole damn life to this. How beautiful, how wonderful, how incredible it is to know that this man, my "Abuna", your "Abuna", teacher, mentor, friend, AA sponsor, professor, Jesuit brother, fraternity brother, uncle, counselor, and confidant dedicated his entire 85 years on this earth to being prepared for the very moment you needed him most.

I now return to where I started: my freshman theology class, and that deep rich voice which bellowed from the front of the classroom: "Gents, I don't care where you came from, or what you believe, I want you to know that God will meet you wherever you are." Fr. Fulco, Abuna, in meeting me where I was, wherever I was at, I got to experience God's love, through you.

Your resume may be 9 pages long with all of your academic accomplishments; your passport may be filled with more stamps than any person can imagine; and your list of awards may be longer and more prestigious than anyone I know. But, now that you're gone and you can't deny it, I'll get to say your big secret out loud – a secret that I suspect you thought sounded far too bold to ever admit: Fr. Fulco, you set out on 1 mission in life – a mission that you can now sleep soundly that you've accomplished—to be the face of God to each of us, a face that meets us exactly where we are.

Sean Tierney ('09, BA in Philsophy; former ASLMU President)

Created by and with permission to post by the LMU SigEp Advisor, Milton Santiago