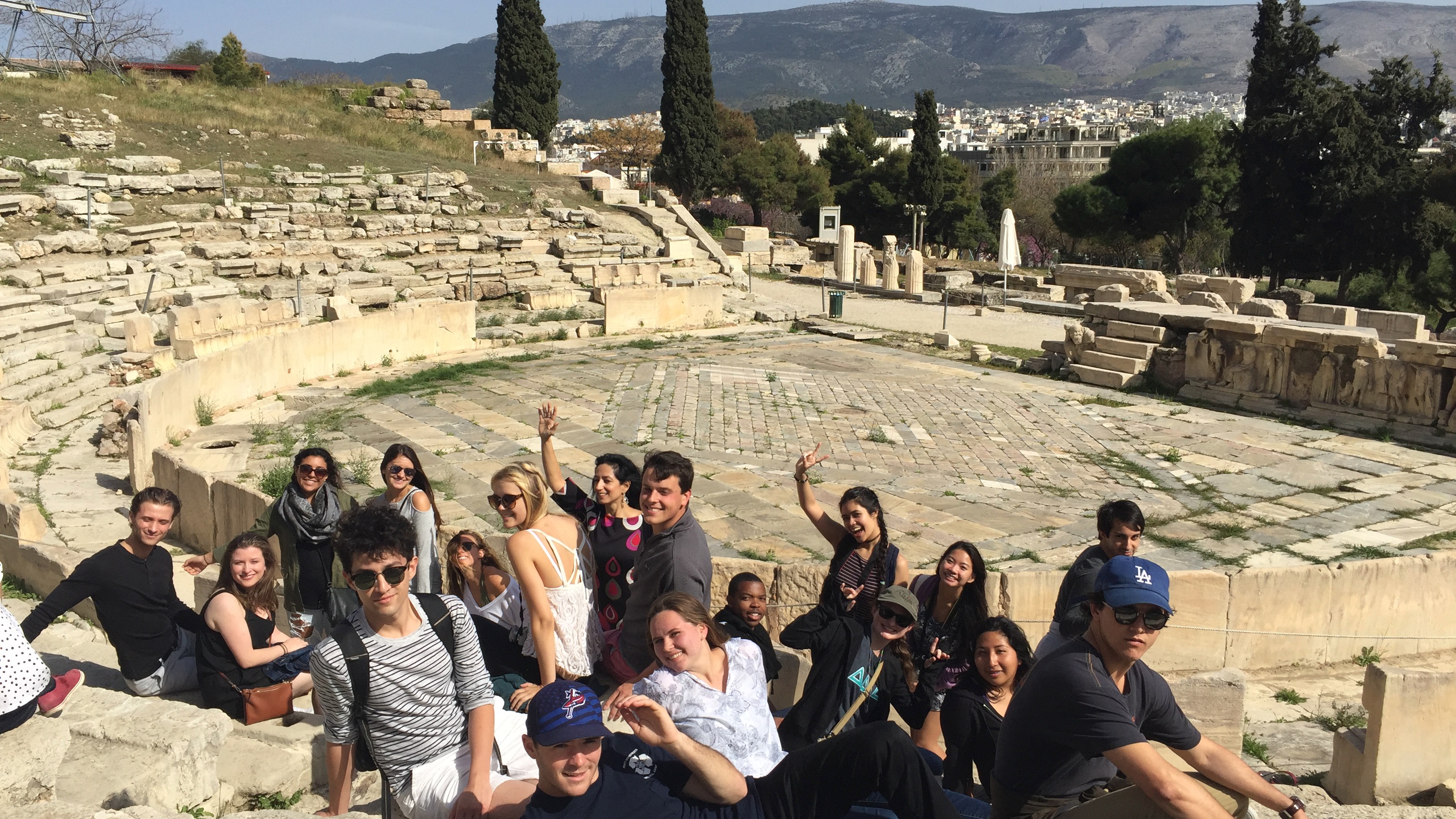 Why Study Classics?
The study of classical languages, civilizations, and cultures has long been at the core of a liberal arts education in the Jesuit/Marymount tradition. The ancient Greek and Roman worlds provide the literary and cultural foundations of western societies. The study of Classics is central to any proper understanding not only of the present world, but also the entire history of western civilization. Classical images have long dominated the history of western art, as have classical literature and rhetoric had an incalculable impact on all western literary and oral traditions.
To study Classics is to study the center of the humanities and humanistic values. Students can learn the classical languages of Greek and Latin. (Reading the classic in the original language is like reading in color rather than the black and white of translation!) Students also become familiar with the vast scope of Greek and Roman literature, from Homer to Thucydides and Herodotus as they give voice to ancient epics, wars, and travel; or Plato and Aristotle, with their vast impact on philosophy throughout history; or the influential Roman poets Virgil, Horace, and Ovid; or the extensive works of Cicero and so many more. The study of Classics covers the whole of human life and experience in all of its richness, complexity, and depth.
Why Study Archaeology?
Archaeology is the study of the human past through the excavation and analysis of the material remains of ancient activities including, for instance, artifacts (such as pottery and stone tools), architectural remains, trace molecules and isotopes, and human remains. In addition to the excitement of excavation, archaeology is linked with several other disciplines, such as history, geography, biology, chemistry, geology, environmental sciences, and sociology.
Archaeologists are interested in all aspects of the past, from people's diet to their relationship with the environment, the tools and cooking pots they used, the houses they lived in, their social, political and religious organizations, as well as their beliefs and the way they buried their dead.
For these reasons, archaeology courses at Loyola Marymount fulfill a variety of core requirements, from Understanding Human Behavior, to Faith and Reason, as well as Historical Analysis and Perspectives, and Interdisciplinary Connections, including writing, information literacy, and engaged learning flags.
Archaeology offers a unique and powerful way of understanding many of the most mysterious aspects of our past, but also of our present. As archaeologists, we are concerned with the significance of the past, and how our ideas and definition of who we are have been shaped by past experiences. Archaeology is also about the present and future of humanity, as the study of the past helps us to imagine lives and worlds quite different from our own.
At Loyola Marymount University, we are committed to unique hands-on experiences in archaeology thanks to the large collection of artifacts in our Archaeology Center. We also facilitate student participation in various archaeological digs throughout the world.
Why Study at LMU?
Loyola Marymount is an elite, top-ranked national university by U.S. News and World Report, which places LMU among the top five Jesuit universities in the country and in the top six private universities in California. Founded in 1911, LMU is a Catholic, Jesuit and Marymount university with more than 6,500 undergraduate students and more than 3,000 graduate and law students. LMU offers 55 undergraduate majors and 59 minor programs, along with 47 master's degree programs, three doctorate programs and 13 credential / authorization programs. LMU's intercollegiate athletics teams compete in the West Cost Conference with 20 Division I and varsity sports.
LMU news and events can be found here: https://newsroom.lmu.edu/