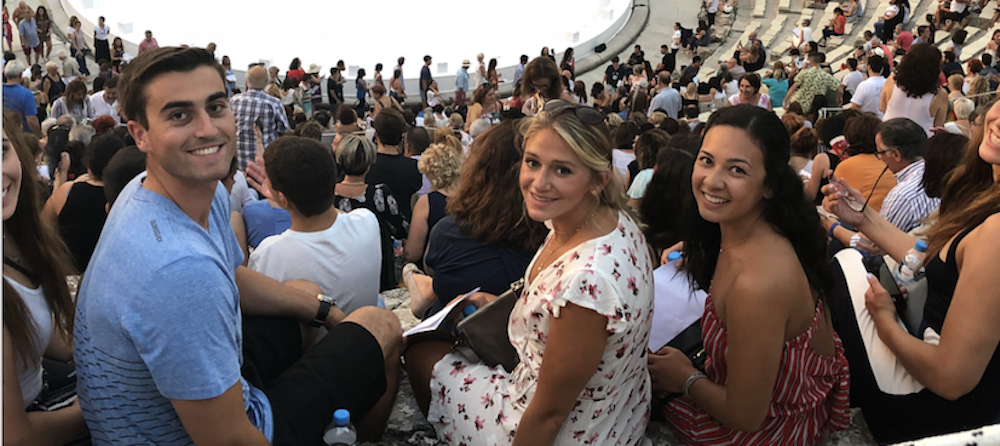 Thanks to the generosity of our supporters, the Caloyeras Center offers a number of annual scholarships and academic awards to students who minor in Modern Greek Studies. The Elios Charitable Foundation, the Onassis Foundation, The Hellenic-American Council, the Hellenic University Club, the L.A. Greek Film Festival, the Next Generation Initiative, and the Libra Internship Program are just some of the Center's supporters who have made this assistance possible. Because of their generosity, our students receive merit- and need-based funding for tuition, travel abroad study in Greece, research papers, and various achievements related to Modern Greek Studies.
In addition to providing scholarships and awards, the Center also offers part-time work-study positions at LMU and facilitates opportunities for internships in organizations, non-profits, and businesses that are supported by the broader Greek-American community. Many of our recent graduates have benefitted from internships here in Los Angeles, in Washington D.C., in Europe, and in Asia.
To learn more about these financial options, as well as other sources and types of assistance available to help finance program study and undergraduate educations at LMU, please browse the information below.
Modern Greek Studies offers the following awards to recognize exceptional students: (1) the Barbara and Hugh Gray Award in Modern Greek Studies, awarded for academic excellence in Modern Greek Studies (supported by the Leventhal family); (2) the Mary Tsassis Award in Modern Greek and European History, awarded to a graduating senior who has demonstrated excellence in Modern Greek and European History; and (3) The George and Cleola Gavalas First Year Seminar Award for the best essay in the field of Modern Greek literature and culture.

In addition to the Program Awards offered by the Modern Greek Studies, several scholarships are also available to students:

The Rosalind Farmans Halikis Scholarship
This scholarship is awarded for academic excellence to a student minoring in Modern Greek Studies.

The Peter and Beverly Caloyeras Scholarship
This scholarship is to financially assist a student in the Odyssey Summer Study Program in Greece.

The Fr. John S. Bakas Scholarship
This scholarship supports graduate and undergraduate study in the fields of the Orthodox tradition and spirituality, ecumenism, and the promotion of unity among the world's Christian Churches, as well as Hellenic culture as studied in the areas of religion, history, language and culture. Learn more.

The IMXA Scholarship for the Institute for Balkan Studies in Thessaloniki, Greece
This is a fully-paid scholarship for a month-long study of Modern Greek Language and Culture (sponsored by the Greek Ministry of Culture).

Other
Prospective students are strongly encouraged to visit the LMU's Financial Aid Named Scholarship Website for information about federal student loans and additional scholarship and grant opportunities not represented here.
Contact
For questions about either of these awards or scholarships, contact the Director of Modern Greek Studies Program Christina Bogdanou, University Hall 3752 or email Administrative Coordinator Erika Rycina, University Hall 3910.
For questions about university scholarships and additional financial aid, contact the Financial Aid Office.