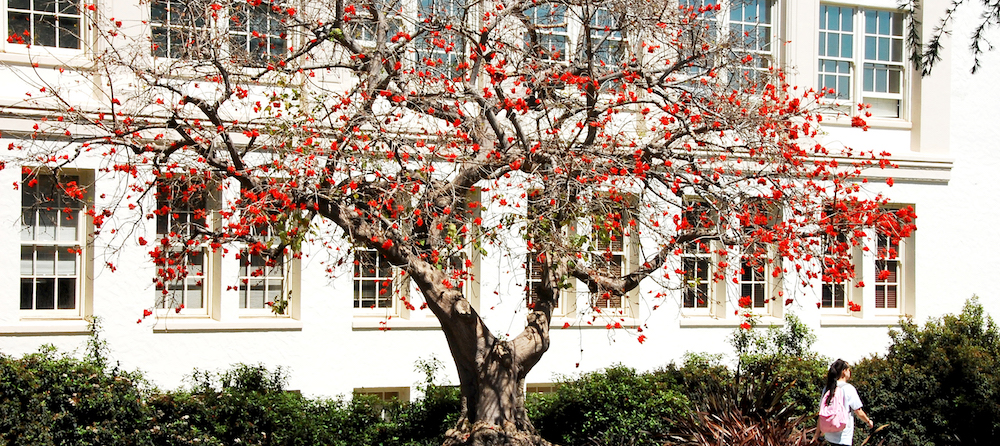 Dear Friends,
In 1972, Professor Hugh Gray, newly retired from UCLA, was invited to teach any course he wanted in the Humanities program at Loyola Marymount University. He chose to teach Modern Greek Poetry in translation. A year later, he invited Demetrios Liappas, the director of the program until 2014, to introduce a new course in the Modern Greek language to "see if it would appeal to the students."
From these humble beginnings almost 50 years ago, LMU went on to become one of a handful universities in the United States to establish an academic program for Modern Greek Studies as a separate field of study from the various Classics departments in universities throughout the country. The work of the Center was made possible by the generous support of the late Peter B. Caloyeras and his wife Beverly as well as members of the community who believed in the need and value of preserving and promoting Hellenism.
Today the Center offers an interdisciplinary undergraduate curriculum and a Minor degree in Modern Greek Studies. It offers annually 12-15 courses that teach the Greek language, culture, history, literature, the arts, and the Greek Orthodox faith and tradition. With a student-to-faculty ratio of 10-1 and an average class size of 15, every year about 200-250 students enroll in our courses. The Center organizes an annual 4-week summer Study Abroad Program in Greece, as well as lectures, book presentations, and other cultural events for the LMU academic community and the community at large. It provides over $20, 000 annually in scholarships and awards for the Center's students. As part of the LMU academic community, the Center has played an integral part in LMU's core curriculum and mission to prepare our students for engaged global citizenship as we promote Hellenism and its causes. And staying true to its origins as an educational and cultural center for the Greek-American community of Southern California, all courses are open to the community.
While the Center has been a meaningful presence in the academic and cultural life of Southern California over the past 50 years, we still have much to do to ensure its growth and long-term sustainability. We invite you to join us in this important for the Center and our community campaign. We ask you to help our program continue to flourish in the years to come through your generosity to the Center. We hope that when you consider your charitable bequests, you will make the Modern Greek Studies Center at LMU a beneficiary. For patrons who wish to make significant contributions to the endowment, there are several opportunities to memorialize your gift.
We are looking forward to strengthening our Center and community with your support for years to come and promote Modern Greek Studies and Hellenism for generations to come.
Sincerely,
Christina Bogdanou, PhD.
Director
Why Give
Throughout its 45-year history, the Center has been strengthened by the generosity of those in the community who value the importance of preserving and promoting Hellenism. Now, more than ever, philanthropic investment is essential to sustain and broaden this important legacy. The reasons for making a gift are many. Perhaps you esteem Hellenic culture and values or you would like to leave a legacy to benefit future generations. Perhaps you are thankful for your LMU experience and want to give something back. Whatever your passion or motivation, your gift will have an impact on our students today and for generations to come.
Making a Difference
The Center envisions enhancements to its operations which will better serve our students and the community alike. A high priority goal is to strengthen the existing endowment. Investment in the Center's endowment will afford expansion of the academic curriculum to cover a broader area of study that focuses on contemporary issues such as current economic and political developments, issues of public health, urban and environmental studies, etc. It will allow for growth in faculty, increased programmatic funds, and the creation of student scholarships.
Ways to Support Modern Greek Studies
Charitable gifts come in many forms: cash, appreciated securities, tangible personal property, real estate, planned gifts including bequests and life-income plans, as well as memorial and tribute gifts. The Center welcomes your gift through a pledge if you choose to make a gift over time, allowing you to give more generously. Named funds within the endowment are welcomed. All donations and pledge payments are eligible for an income-tax charitable deduction. You may contact the Center for more information at ModernGreekStudies@lmu.edu or the Director of Development Anthony Yost at Anthony.Yost@lmu.edu.
You may also give online. Every gift counts. Every gift makes a difference.
A Gift of Impact
Antigoni, B.S. Psychology '17, added a Modern Greek Studies minor after discovering her Greek "home away from home" in the program. "I never had the chance to study in depth my country's history, religion, and literature. That is something that the program could offer me – a part of Greece that I wouldn't have gotten otherwise. I am very grateful since not many universities offer Modern Greek Studies programs."