Wole Soyinka + Henry Louis Gates, Jr.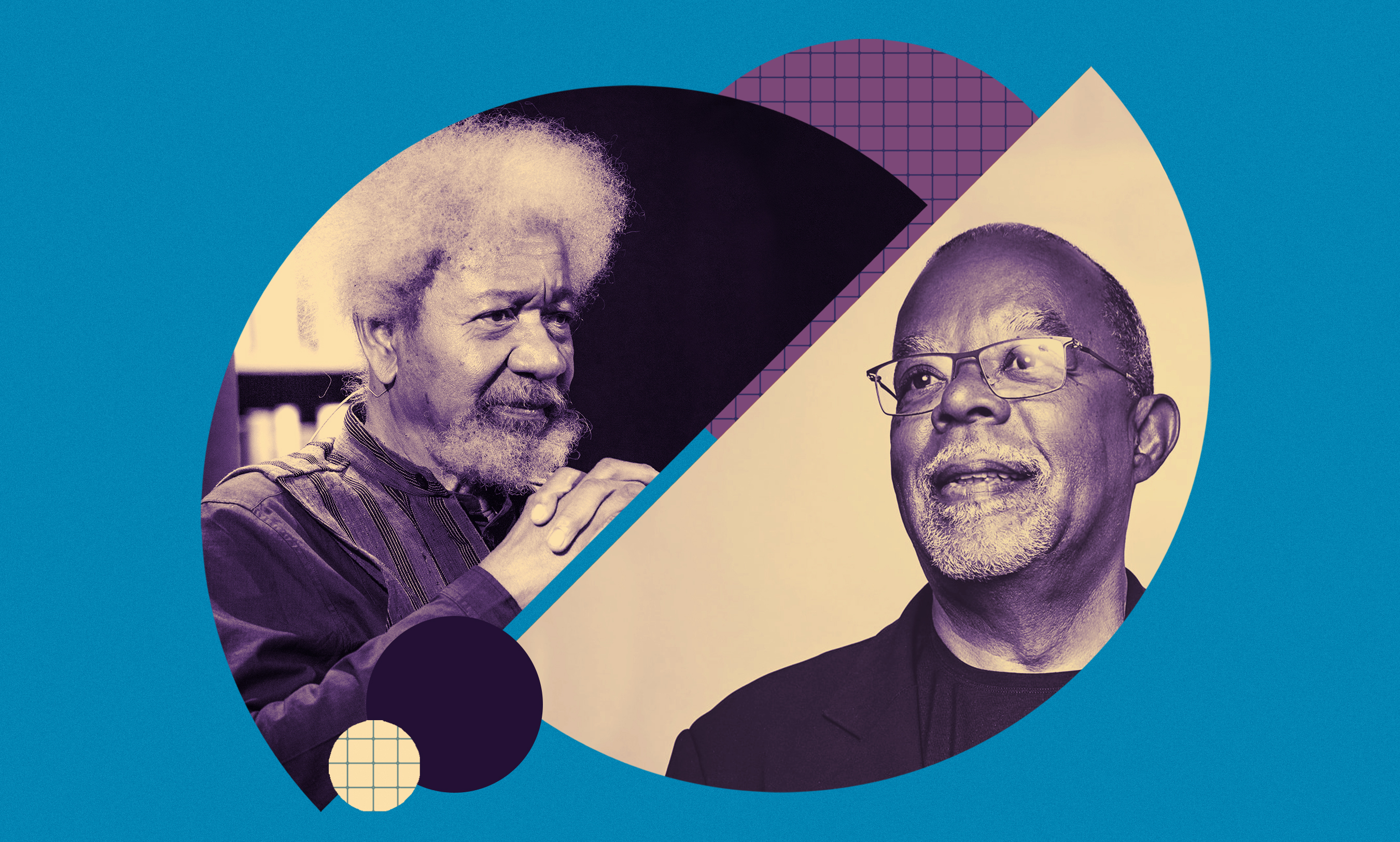 Inaugural Global Conversation
Wole Soyinka + Henry Louis Gates, Jr.
Friday, March 4 | 7:00 pm
LMU University Hall Atrium
Photo of Wole Soyinka @Frankie Fouganthin; Photo of Henry Louis Gates Jr. @Maarten de Boer/Getty Images
Inaugural Global Conversation
Wole Soyinka + Henry Louis Gates, Jr.

Join us for an incredible event featuring Nobel Laureate, writer, activist, and former President's Marymount Professor in Residence, Wole Soyinka in conversation with Emmy-Award winning filmmaker, literary scholar, journalist, cultural critic, and institution builder, Henry Louis Gates, Jr.

Organized by:
Marymount Institute for Faith, Culture, and the Arts and TSEHAI Publishers

Produced by:
John Flaherty and Theresia de Vroom

Moderated by:
Julia Lee and Theresia de Vroom

Sponsored by:
LMU Academic Affairs; Academy of Catholic Thought and Imagination; Bellarmine College of Liberal Arts; Campus Ministry; College of Communication and Fine Arts; Dept. of African American Studies; Dept. of Theological Studies; Diversity, Equity, and Inclusion; Mission and Ministry; Office of the Provost; Religious of the Sacred Heart of Mary; Student Affairs; The Creative Writing Committee

Media Spronsor:

About the Marymount Institute for Faith, Culture, and the Arts
The Marymount Institute for Faith, Culture, and the Arts preserves the transformative educational tradition of the RSHM and promotes dialogue between faith and culture as expressed in the fine, performing, literary, and communication arts

About Loyola Marymount University
LMU is a private Catholic university with 6,000 undergraduates, 2,200 graduate students and 1,100 law students from diverse backgrounds and many perspectives. Our seven colleges and schools boast best-in-the-nation programs in film and television, business, education and more. Our stunning campus in West Los Angeles is a sun-soaked oasis overlooking the Pacific coast and a model of sustainability. We're rooted in the heart of Los Angeles, a global capital for arts and entertainment, innovation and technology, business and entrepreneurship. Our mission is grounded in a centuries-old Jesuit educational tradition that produces extraordinary men and women dedicated to service and social justice. We're proud of more than 85,000 LMU alumni whose professional achievements are matched by a deep commitment to improving the lives of others.

Wole Soyinka was born on 13 July 1934 at Abeokuta, near Ibadan in western Nigeria. After preparatory university studies in 1954 at Government College in Ibadan, he continued at the University of Leeds, where, later, in 1973, he took his doctorate. During the six years spent in England, he was a dramaturgist at the Royal Court Theatre in London 1958-1959. In 1960, he was awarded a Rockefeller bursary and returned to Nigeria to study African drama. At the same time, he taught drama and literature at various universities in Ibadan, Lagos, and Ife, where, since 1975, he has been professor of comparative literature. In 1960, he founded the theatre group, "The 1960 Masks" and in 1964, the "Orisun Theatre Company", in which he has produced his own plays and taken part as actor. He has periodically been visiting professor at the universities of Cambridge, Sheffield, and Yale.

During the civil war in Nigeria, Soyinka appealed in an article for cease-fire. For this he was arrested in 1967, accused of conspiring with the Biafra rebels, and was held as a political prisoner for 22 months until 1969. Soyinka has published about 20 works: drama, novels and poetry. He writes in English and his literary language is marked by great scope and richness of words.

As dramatist, Soyinka has been influenced by, among others, the Irish writer, J.M. Synge, but links up with the traditional popular African theatre with its combination of dance, music, and action. He bases his writing on the mythology of his own tribe-the Yoruba-with Ogun, the god of iron and war, at the centre. He wrote his first plays during his time in London, The Swamp Dwellers and The Lion and the Jewel (a light comedy), which were performed at Ibadan in 1958 and 1959 and were published in 1963. Later, satirical comedies are The Trial of Brother Jero (performed in 1960, publ. 1963) with its sequel, Jero's Metamorphosis (performed 1974, publ. 1973), A Dance of the Forests (performed 1960, publ.1963), Kongi's Harvest (performed 1965, publ. 1967) and Madmen and Specialists (performed 1970, publ. 1971). Among Soyinka's serious philosophic plays are (apart from "The Swamp Dwellers") The Strong Breed (performed 1966, publ. 1963), The Road ( 1965) and Death and the King's Horseman (performed 1976, publ. 1975). In The Bacchae of Euripides (1973), he has rewritten the Bacchae for the African stage and in Opera Wonyosi (performed 1977, publ. 1981), bases himself on John Gay's Beggar's Opera and Brecht's The Threepenny Opera. Soyinka's latest dramatic works are A Play of Giants (1984) and Requiem for a Futurologist (1985).

Soyinka has written two novels, The Interpreters (1965), narratively, a complicated work which has been compared to Joyce's and Faulkner's, in which six Nigerian intellectuals discuss and interpret their African experiences, and Season of Anomy (1973) which is based on the writer's thoughts during his imprisonment and confronts the Orpheus and Euridice myth with the mythology of the Yoruba. Purely autobiographical are The Man Died: Prison Notes (1972) and the account of his childhood, Aké ( 1981), in which the parents' warmth and interest in their son are prominent. Literary essays are collected in, among others, Myth, Literature and the African World (1975).

Soyinka's poems, which show a close connection to his plays, are collected in Idanre, and Other Poems (1967), Poems from Prison (1969), A Shuttle in the Crypt (1972) the long poem Ogun Abibiman (1976) and Mandela's Earth and Other Poems (1988).

Henry Louis Gates, Jr. is the Alphonse Fletcher University Professor and Director of the Hutchins Center for African & African American Research at Harvard University.

Emmy and Peabody Award-winning filmmaker, literary scholar, journalist, cultural critic, and institution builder, Professor Gates's most recent books are Stony the Road: Reconstruction, White Supremacy, and the Rise of Jim Crow and The Black Church: This Is Our Story, This Is Our Song.

He has also produced and hosted more than 20 documentary films, most recently The Black Church on PBS and Black Art: In the Absence of Light for HBO. Finding Your Roots, his groundbreaking genealogy and genetics series, is now in its eighth season on PBS.

He is a recipient of a number of honorary degrees, most recently a Litt.D. from his alma mater, the University of Cambridge. Gates was a member of the first class awarded "genius grants" by the MacArthur Foundation in 1981, and in 1998 he became the first African American scholar to be awarded the National Humanities Medal.

A native of Piedmont, West Virginia, Gates earned his B.A. in History, summa cum laude, from Yale University in 1973, and his M.A. and Ph.D. in English Literature from Clare College at Cambridge in 1979, where he is also an Honorary Fellow.

A former chair of the Pulitzer Prize board, he is a member of the American Academy of Arts and Letters and serves on a wide array of boards, including the New York Public Library, the NAACP Legal Defense Fund, the Aspen Institute, the Whitney Museum of American Art, Library of America, and The Studio Museum of Harlem. In 2011, his portrait, by Yuqi Wang, was hung in the National Portrait Gallery in Washington, D.C. He is a member of the Phi Beta Kappa honor society.

All are welcome, but seating is limited so RSVP now!