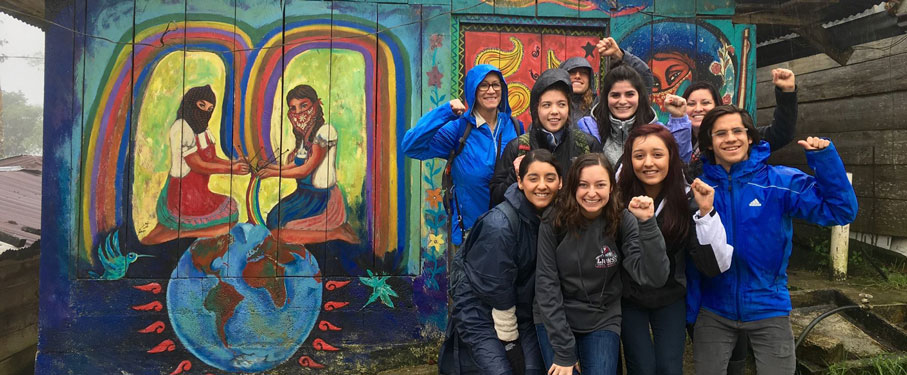 Students may participate in the Alternative Breaks Program, hosted by Student Affair's Center for Service and Action, as a way to engage in cultural exchange and volunteer their time serving those who are disadvantaged or oppressed. Service opportunities are available at the local, national, and international level. The program offers hands-on, community based learning, immersing students in diverse contexts with concrete challenges that heighten social awareness and inspire lifelong social action.
Examples of past Alternative Breaks trips include:
Catalina Island, California
Environment Restoration (2005-12): Participants camped at Hermit Gulch, two miles east of Avalon. Working with The Catalina Conservancy, students engaged in various ecological preservation projects such as removing non-native plant species, securing the habitat for native animals, and maintaining hiking trails and other conservancy-operated facilities. This program didn't include a cultural encounter or immersion, but is designed for students with interest in ecological and environmental issues. In 2008 the trip was held exclusively for LEAP Students as part of their curriculum.
Dominican Republic
Fair Trade Coffee (2005-07): Students will live with and work alongside rural coffee farmers who will share their experiences growing and selling coffee in the contemporary, globalized economy. Working with Education Across Borders, students will gain a deeper appreciation for the challenges facing coffee-growing families and the migrant Haitian workers who work their fields. If time permits, students will visit grassroots community movements in the city of Santiago, as well as Batey Libertad, a largely Haitian community. Students will participate in home stays.
Jackson, Mississippi
Urban Construction (2005-06): Students worked with a dynamic, faith-based organization in a variety of construction and service projects to the needs of this urban, African-American community in the heart of the South. Service projects included demolition and reconstruction of homes, assistance within the local health center, and facilitation of after-school programs. The group had the opportunity to learn about the historical significance of Jackson in the Civil Rights movement. The group lived in a large, restored urban home, hosted by the Voice of Calvary Ministries.
Calamba City, Laguna, Philippines
Community Building and Youth Development (2012): Participants worked with Gawad Kalinga, an organization dedicated to the improvement of communities and development of youth. The foundation focuses on empowering poor communities to self-reliant and sustainable, and developing the skills and talents of children within these communities. The students were able to learn about the Filipino community, educate youth, and assist in small-scale building projects.
Bocas Del Toro, Panama
Sustainable Development (2012): In collaboration with the Fraternity, Sigma Chi, participants work with Global Humanitarian Adventures. Participants assisted workers in tending to produce, and assisting the nearby communities.
Immokale & Seminole, Florida
Indigenous Workers' Rights (2012): Students went to Immokalee, Florida meeting with the Coalition of Immokalee Workers to gain knowledge about their struggle in the fair wages campaign. The cohort learned how to support the Campaign for Fair Food which seeks to improve wages and working conditions on fast food industry and supermarkets such as Trader Joe's. For the last two days of the trip, participants also visited the Seminole community to learn more about Native American's issues.
To learn more about past and upcoming Alternative Breaks trips, visit: studentaffairs.lmu.edu/ABTripOptions.