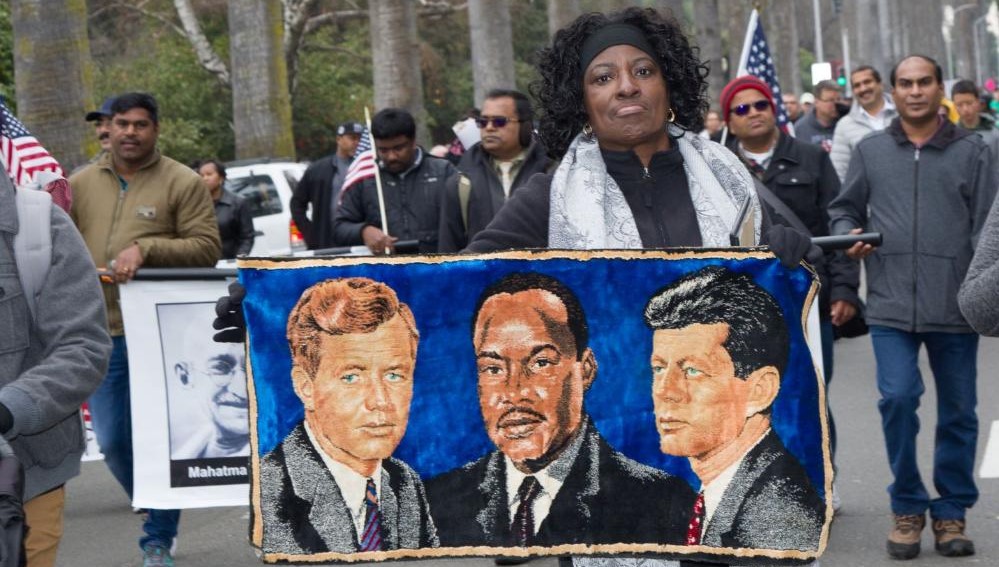 "There can be no justice without peace, and there can be no peace without justice." — Reverend Dr. Martin Luther King Jr.
Why Peace and Justice Studies?
As wisely asserted by Reverend Dr. Martin Luther King Jr., peace and justice are intimately intertwined. From this perspective, the Peace and Justice Studies Program is designed to help students grapple with the tensions this can generate as they endeavor to create the world in which they seek to live (Gandhi). The growing social movement for a "just peace," which Pope Francis recently endorsed, compels us to act knowledgeably to combat social, political and economic injustices. From ethnic violence to systemic racism, from environmental injustice to global income inequality, the possibility for change is now!
What Do Peace and Justice Studies Minors Do?
The Peace and Justice Studies minor seeks to ensure that students gain knowledge in three key areas of peace and justice as well as practically applying that knowledge through an engaged learning experience. Within the three main areas (Peace and Conflict; Social, Environmental, Economic, and Legal Justice; and Ethical Approaches), students may choose from a variety of courses that relate to their chosen fields of interest and emphasis, drawing from programs such as Political Science, History, Theological Studies, Philosophy, Women's and Gender Studies, Sociology, and a number of other departments.
Is This Minor Right for You?
You might be a Peace and Justice Studies minor if you are interested in:
Social justice
Criminal justice
Structural inequality
Non-violence and conflict resolution
Peace and security
Women's and gender issues
Global health, climate justice, and/or human rights
About Our Faculty
Our faculty members are committed to student success and bring a wealth of knowledge from their diverse disciplinary backgrounds. All of the faculty members are engaged scholars, with research agendas on a variety of issues relating to social justice.
About Our Students and Graduates
LMU students minoring in Peace and Justice Studies are active citizens of social justice. They have a passion for creating change in the world, and when combined with their academic knowledge and skills, they are unstoppable. Graduates may go on to careers in human rights, law, public policy, and social work.
Our students have opportunities to intern at CHIRLA, Oxfam Change, Amnesty International, Human Right Watch, LLS Immigrant Justice Clinic, Project for the Innocent, among others.
Representative Courses
Courses that fulfill Peace and Justice credit have included:
Sex, Race, and Violence
Politics, Faith, and Civic Engagement
Liberation Psychologies
Ethics and Justice in Dante's Inferno
Comparative Human Rights
Women and Environmental Justice
Social Inequalities
Pacifism and Peace Movements
International Security
Culture, Crime and Punishment
Peace and Reconciliation
Conflict and Genocide in Africa
The Palestine/Israel Conflict
Love and Justice
The Good Life
More Resources (Links)