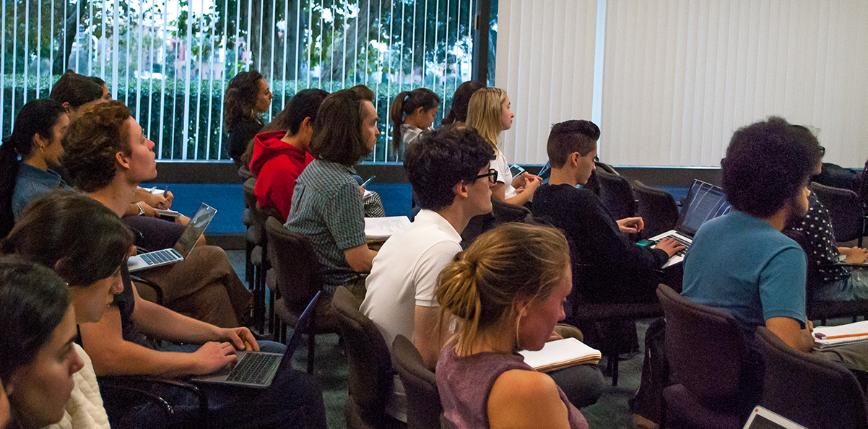 LMU offers an advising model based on a close student/faculty advisor relationship. This relationship offers assistance to students in achieving educational, career, and personal goals through the use of the full range of institutional resources. In order to make the best of advising appointments, students are encouraged to become familiar with the requirements, coursework within their majors and minors, and other information about academic policies. LMU students must be proactive in understanding the academic requirements, policies, and procedures which affect their studies and path to graduation. Students are further encouraged to come with well-developed questions for the advisor.
Dr. Holli Levitsky, the director of the Jewish Studies Program, serves as the minor's primary advisor. If you have any questions, including adding a Jewish Studies minor or your progress within the program, please email her here.
Frequently Asked Advising Questions
I'm ready to add the Jewish Studies minor! How do I get started?
Great! To formally add the minor to your degree audit, you will need to:
Fill out a Change of Program form.
Seek signature from the program director
Submit the completed form for processing to BCLAAdvising@lmu.edu The Advising staff will email or call you only if there are follow-up questions.
NOTE: if the program you are adding or dropping is in another college, you will need to seek deans' signatures from the corresponding dean's office as well.
Check your Degree Works to make sure it has been added.
Do I have to have a BCLA major to add a Jewish Studies minor?
Not at all! We welcome all students regardless of major to add the Jewish Studies minor. Students from all colleges have found that a Jewish Studies minor deepens their understanding and perspective of their academic major.
What courses are required for the minor?
Please see our Minor Requirements page for details.
What if I'm unsure about certain minor courses fitting into my schedule and graduation requirements?
Degree Works is your degree audit, the formal record of your progress toward graduation. You can access Degree Works by logging onto Prowl and looking under the Student Services: Student Records tab. If you have questions about how certain courses will fit within your minor's requirements, especially if they are not cross-listed with Jewish Studies, please consult your Degree Works, and schedule an advising session with the program director.
Is the Capstone course required? Can I take it in my junior year?
You may take an approved Study Abroad course, or an approved course in Jewish literature, film, or culture in lieu of the Capstone course. Under special conditions, the Capstone course, or its alternatives, may be taken in the student's junior year. Please consult the program director for approval.
What is the BCLA Advising Center, and how is it different from my major/minor advisor?
The BCLA Advising Center is an additional resource to help you stay on top of your academic progress. They do not replace existing faculty advisors for your major or minor.
Please note that all this information applies to minors as well.
Your faculty advisor can help you:
Understand major requirements
Make a major course plan
Discuss interests within your major
Identify research opportunities
Find relevant internships
Discuss careers
Plan for graduate school
Change a major or minor
A professional advisor can help you:
Understand core and major requirements
Read your Degree Audit Report
Fix problems on your Degree Audit Report
Help you craft a four-year plan
Get credit for transfer coursework
Get credit for summer classes
Troubleshoot course registration problems
Process academic forms
Additional Resources and Forms