Memorial Mass for David A. Sánchez
Professor David A. Sánchez, Ph.D., beloved teacher, mentor, and scholar, died unexpectedly of heart complications while hiking on Saturday, Apr. 6, 2019. Please join us for a Memorial Mass celebrating his life.
Saturday, Oct. 5, 2019
Chapel of the Sacred Heart
Loyola Marymount University
Presided over by Allan Figueroa Deck, S.J.
Reception immediately to follow in the Collins Faculty and Alumni Center.

Biographical Highlights
David A. Sánchez, January 26, 1960 - April 6, 2019, was Associate Professor of Early Christianity in the Department of Theological Studies at LMU, while also serving as affiliate faculty in Irish Studies and the School of Education. Some of professor Sánchez's many accomplishments include his time leading and offering his vision for Latinx Theology, as the President of the Academy of Catholic Hispanic Theologians of the United States (ACHTUS). A generous colleague, he was also book review editor for The Journal of Hispanic/Latino Theology and for the Journal of the American Academy of Religion. According to ACHTUS "His award-winning first book, From Patmos to the Barrio: Subverting Imperial Myths, modeled a Chicano approach to biblical scholarship. He traced the subversion of Roman imperial myths in Revelation onto their subversive adaptation in colonial Mexico and the first written narratives about the Virgin of Guadalupe and then through to the Chicano movement and murals of Guadalupe in East Los Angeles and Boyle Heights." His most recent work was on the complex function of murals for communities living through major conflicts by looking at two primary sites, Los Angeles, California and Northern Ireland.
As a student David Sánchez was a member of the Hispanic Theological Initiative's Dissertation group of young scholars, and later as a professor he was HTI's Book Prize winner and also a mentor. At LMU Dr. Sánchez taught and mentored countless groups of undergraduate students, who saw in him a role model and advocate, and graduate students who were invariably challenged and encouraged by his invitation to profound intellectual engagement.
He is survived by two young daughters and mourned by hundreds of people across several continents who were touched by his gracious kindness, his insightful and honest writings and most of all his friendship. More information will be posted as it becomes available.
Que Descanse en Paz
David A. Sánchez Memorial Fund at LMU
If you would like to honor David's memory with a gift, please visit go.lmu.edu, specify "Other", and then indicate David Sánchez Memorial Fund.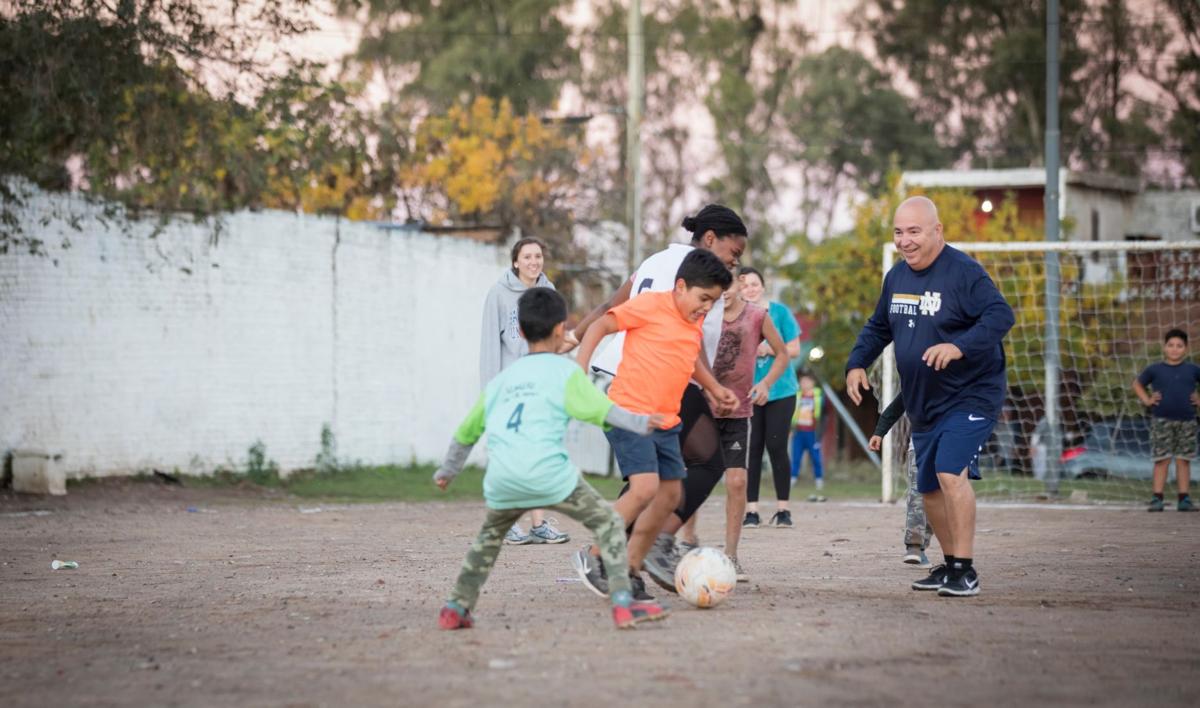 David in Córdoba, Argentina participating in an impromptu game of fútbol, spring 2018