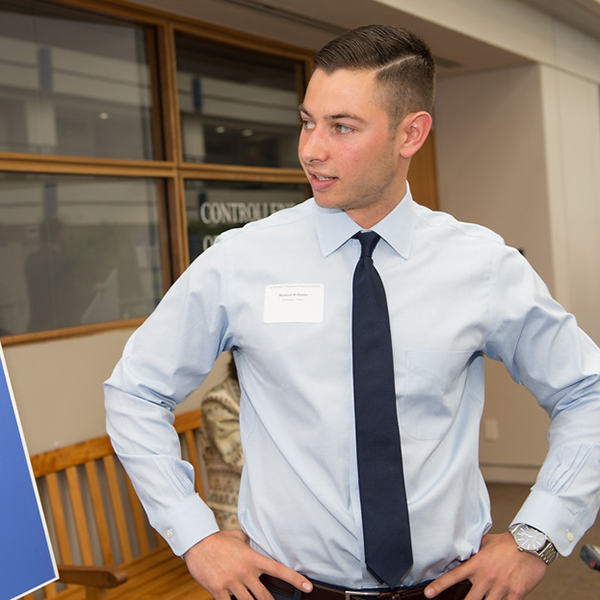 Bennett Williams '16
"The Change of Loyalty Programs and Their Effect on Airline Competition"
Economics students may enhance their academic experience by participating in faculty-guided research. Faculty-guided research is a great way to gain valuable skills in quantitative or qualitative research, under the mentorship of our expert faculty. Here are a few ways LMU Economics students can get involved in research:
If you are awarded a Work Study Grant, you may be able to work with a full-time professor as a teaching or research assistant, gaining valuable experience in an area of disciplinary or career interest.
Explore the RAINS Research Assistant Program. The Rains Research Assistant Program supports faculty research by providing financial support for full-time tenured & tenure-track faculty to hire a student research assistant. Paid assistantships with faculty in this department are available each semester. Faculty typically invite high-achieving students to apply for these assistantships.


Apply for the Summer Undergraduate Research Program (SURP). SURP enhances undergraduate education by providing financial support for students wishing to engage in faculty-guided research opportunities and creative projects during the summer. Participation in SURP is a program designed to provide students with insight into the research process.


Participate in the Undergraduate Research Symposium. The Symposium is your opportunity to share your research and creativity with the LMU community. Presentation formats include paper presentations, panel discussions, poster sessions, and presentations of creative endeavors. Creative activities may include performances in music, dance, and theatre, as well as exhibits in the visual arts and film.


Arrange to do an Independent Study course under the direction of a full-time professor. This could allow for the continuance or even completion of a research project beyond the scope of a regular course. For more information, speak to your professor and fill out an independent study course form.