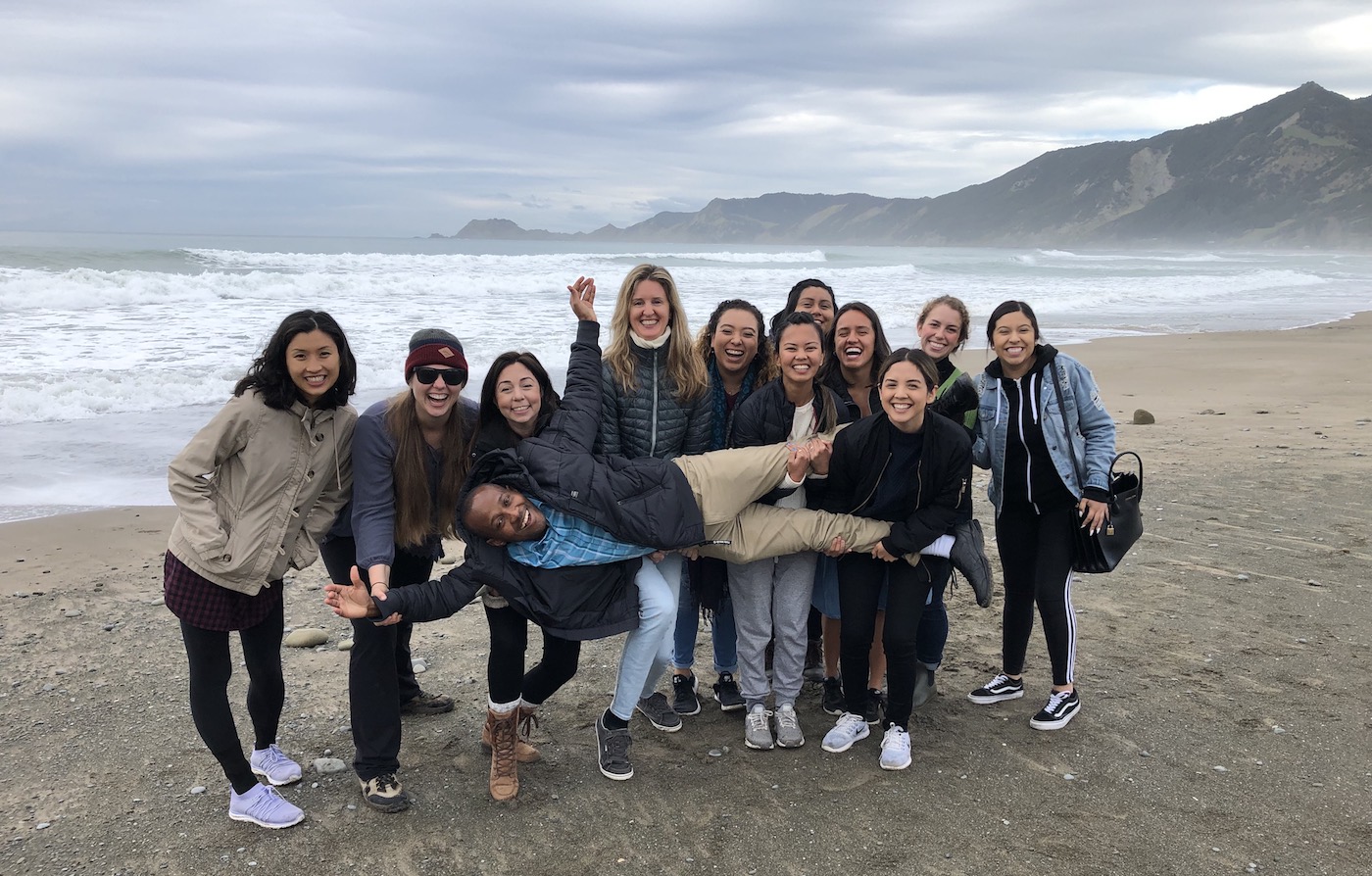 Study abroad... for graduate students?
Excursions to other U.S. destinations and international study in theology can be a profound experience for graduate students. Each year, LMU's graduate theological studies programs offer optional one-two week excursion courses that give students a chance to apply theology to situations in the real world - from Tennessee to New Zealand. Through travel and study, excursion courses invite us out of our comfort zones to experience Christian theology through other eyes and lives. They also offer an intimate encounter with social justice "on location" – either on the border of the U.S. and Mexico, or among the indigenous Maori of New Zealand. LMU is pioneering the concept of relocating theology out of the classroom and into the world by taking graduate theology courses on the road. Recent excursion courses have included: "Migration and the Border: Context, Theology, and Pastoral Responses," "Prophecy and Society in Maori New Zealand," and "The Bible and the Blues" - taught in Memphis, TN with a blues tour into Mississippi.
To learn more about excursion opportunities in upcoming semesters, visit PROWL or contact the graduate director, Brett Hoover. To read more about individual trips and locations, see below.
Indigenous Maori Christian Theology in Aotearoa (New Zealand)
Professor: Daniel Smith-Christopher
The Maori name for New Zealand is "Aotearoa," which means the "Land of the Long White Cloud." Where better to spend time with Maori Christians to think together about indigenous theology and history?
Why New Zealand? Perhaps it isn't enough simply to state that New Zealand is one of the most fascinating places on earth. A breathtaking and beautiful land, a fascinating diverse society, and most importantly, a vibrant and living indigenous people, deeply committed to their tradition and culture. The Maori of New Zealand, like indigenous peoples throughout the South Pacific, embraced Christianity already in the 18th and 19th Centuries, and many maintain a strong and committed Christian faith (divided among many different Christian traditions). But what does it mean to embrace one's indigenous identity, and yet also embrace Christian faith? New Zealand is a living and striking example of how a people have made decisions about precisely these choices. Some Maori have adopted Christian traditions from outside New Zealand but made it their own (e.g. the Anglican tradition) while other Maori have embraced an expression of Christianity that is entirely Maori in origin (the Ringatu Faith, the Ratana Church) founded by the famous Maori Prophets of the 19th century. As such, Maori Christians have a great deal to teach other Christians about valuing tradition, land, culture, and at the same time teaching others about the values of innovation, incorporation, and wise discernment in a modern world. LMU has built up a relationship with Anglican Maori in the Gisborne area for many years, and our friendships have resulted in an innovative and unique learning opportunity for LMU students.
Migration and the Border: Context, Theology, and Pastoral Responses
Professor: Brett Hoover
"As in any course, we spent a lot of time looking at theory and data, including sociological data to help us get a sense of what is actually happening and why, beyond the political noise. We studied biblical narratives—the Bible is full of immigrants, including Jesus himself as a child in Egypt—and various Christian theological responses to migration, both from theologians and church teaching. The high point of the course, however, was when we went to see things for ourselves on a five-day trip to the U.S.-Mexico border in San Diego/Tijuana. We saw the enormous, double-layered border fence extending right out into the ocean, encountered border patrol officers on duty, and noticed all the cameras and sensors. We visited a cemetery where dozens of people who had died crossing in the desert were buried, a great number of them still unidentified. We went to the Mexican side and saw where everyday life comes right up to the border and where people paint their sadness and anger in graffiti onto the fence. Most importantly, we listened to lots of people—teachers and social workers from Catholic Charities who help immigrants every day, day laborers who too often get cheated out of their wages, deportees grieving the separation from their families still in the U.S., young men and a whole family escaping cartel violence, and refugees from Haiti and West Africa who crossed a dozen or more countries to ask for asylum in the U.S. These voices, expressing vast pain but also great hope, overwhelmed us. Their stories made the theory we had studied come alive and filled us with the need to help. My guess is that we will also spend weeks and months struggling as people of faith to be faithful to the witness of those we encountered, and to confront the fear, disorientation, injustice, and sheer complexity involved in addressing contemporary immigration." -- Student Testimonial
The Bible and the Blues: The Book of Lamentations and the Legacy of Blues Music
Professor: Daniel Smith-Christopher
Although the Book of Lamentations is the central Biblical focus of this short course, it is actually an experiment in comparative Biblical analysis. Lamentations arguably comes from the fall of Jerusalem in 587 BCE and has become a "canonical" expression of sadness for Jewish and Christian tradition. One of the central arguments of Claus Westermann is that it is NOT very central to Christian Theology, however, and he wants to know why not.
Lamentations can be viewed as the "Hebrew Blues." To understand more about the Lament and Mourning traditions of the Hebrew Bible, we compare this genre to one of the most powerful musical gifts of the African American experience to the world – the tradition of "The Blues," and more specifically, "The Delta Blues." To do this, we go to Memphis, Tennessee!
Just as it is impossible to understand the book of Lamentations without understanding something of the suffering and events of the Babylonian Conquest and Exile, so it is also impossible to fully appreciate the Blues without understanding its' roots in the African-American experience. Thus, in this course, we work steadily toward a comparison that begins to do justice to Hebrew Blues, and African American Laments – and Hebrew Laments, and African American Blues!
Indigenous Pacific Theology
Professor: Daniel Smith-Christopher
Stay tuned...LMU's Grad Theology Program is partnering with our sister school, Chaminade University in Honolulu, Hawaii to develop a summer "Indigenous Pacific Theology" seminar for both Chaminade and LMU Grad students! The class will take place on the beautiful Chaminade campus right in the heart of the island of Oahu. Potentially slated for summer of 2023—more details are forthcoming.