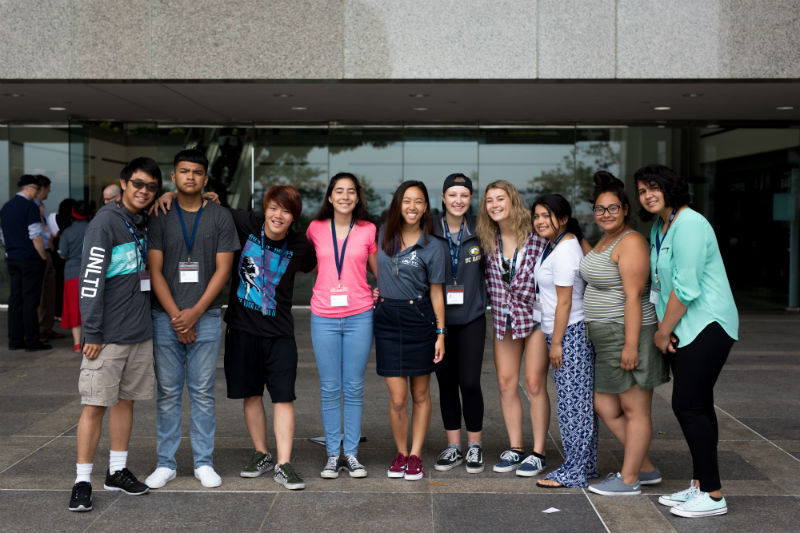 The 2020 LMU Youth Theology Institute is an innovative half-day retreat at LMU—run by graduate students in theology under the direction and supervision of theological studies faculty. We are inviting high school students to creatively and intensively explore their own future leadership potential and the "big spiritual questions" they have in dialogue with various religious traditions (including but not exclusively Roman Catholicism). The institute is a holistic and integrative experience which seeks to capture young imaginations, cultivate the students' spiritual growth, facilitate intellectual development, and promote leadership that is ethical, multicultural, and seeks justice in a broken world. Students will express what they have experienced and learned at a closing reflection activity.
If your school or faith community would like to send students to the LMU Youth Theology Institute, please fill out the online Intent to Participate form no later than January 15, 2020.
The LMU Youth Theology Institute is made possible by a generous grant from the Lilly Endowment Inc.
Process for faith communities and schools:

| | | |
| --- | --- | --- |
| Date | Registration Timeline | Deadlines |
| December 2019 | Promotional materials sent to schools and churches. | Early December. |
| January 2020 | Schools and churches commit to participate and send list of participants to LMU. | Deadline January 15, 2020. |
| February 2020 | Student registration opens.Eligible students receive email from LMU with discrete link to register. | Deadline to register is March 6, 2020. |
| March 2020 | LMU sends confirmation of registration and additional information and materials to registered students | March 10, 2020. |
| March 2020 | YTI half-day retreat on the campus of LMU. | Saturday, March 21, 2020 |

Selecting student participants: Schools and faith communities will be invited to select a number of students to participate, depending on their size and the total number of institutions participating. The LMU Youth Theology Institute believes that schools, youth ministry programs, and other organizations know best which students might benefit most from the Institute.[1] That being said, we recommend students who have completed at least their first year of high school, who show a serious interest in "spiritual" (big life) questions, and who demonstrate leadership potential. We seek a diverse group of students, ethnically, racially, and socioeconomically, and so participating students must be open to cooperating with others from different backgrounds. Students need not be religious believers, but they do need to be open to the perspectives of various religious traditions (including Roman Catholicism) on important spiritual, ethical, and social questions.
---
[1] LMU retains the right to negotiate with institutions over the final list of participants.