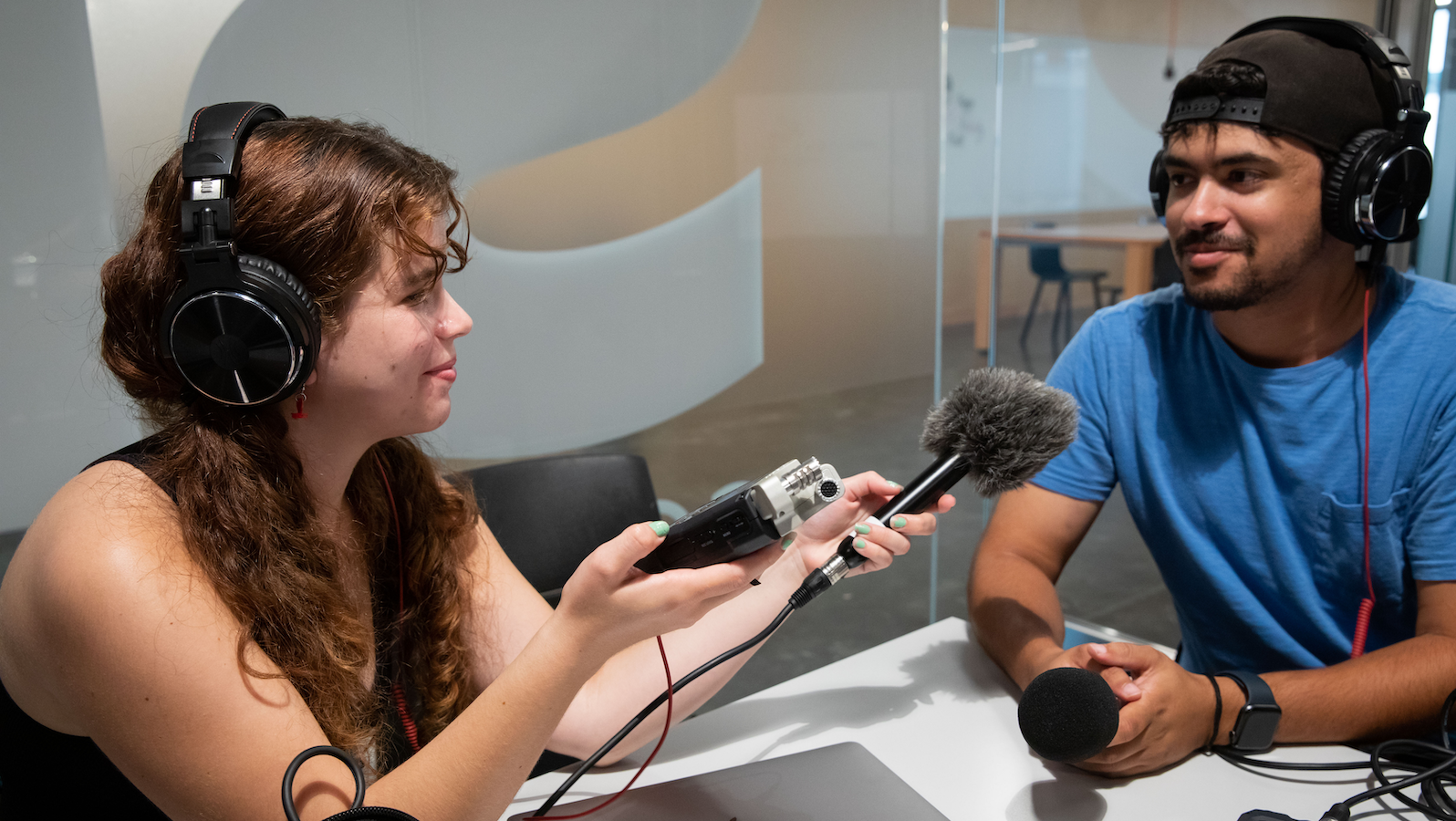 What is Journalism?
Journalism at LMU connects the educational values of the Jesuit and Marymount traditions and the core creative and critical practices of the English Department to the rapidly changing future of global communication. Our experienced faculty offer hands-on instruction in the reporting, writing, editing, and technological skills across multiple platforms that students need to engage critically and meaningfully with current events and become professional journalists. Our students go on to careers at prestigious news organizations where they help make real change in the world.
What do Journalism Majors Do?
The journalism program has as its pedagogical foundation the hands-on approach of project-based learning, which connects our students to communities and lives whose stories transmit issues of social, political, cultural, and moral import. It is also rigorously interdisciplinary, incorporating instruction in film, television, photography, and radio production; communication studies; digital media; social media; and modalities not yet known or articulated. Ethical discussions suffuse the entire curriculum, first in the traditional sense of a basic professional ethics and also in the larger frame of an ethics of representation: who is reporting about whom, and why and how. Telling people's stories is our mission.
Students can begin their Major their first year or declare it later. They learn the foundations of reporting and writing journalism in their first two years and explore journalism as a literary practice through foundational English courses. In their third and fourth year they learn new technological tools for storytelling, explore ethical and critical issues that affect journalism, and begin their specialization in modes of practice or content focus. They also begin to develop specific projects drawing on LA-based subjects, culminating in a long-form capstone project their senior year. The Major also requires hands-on experience via either an off-campus internship or work with campus media.
About Our Faculty
The journalism faculty at LMU are all dedicated professors who still actively work as journalists. They have published numerous books and written for distinguished newspapers, magazines, websites, television stations, and journals and made documentaries. Students work very closely on intensive projects with the Fletcher Jones Chair of Literature and Writing, a Nieman Fellow, and an Annenberg Fellow, among others.
Our courses have included:

Language of Journalism
Investigative Reporting
Arts and Culture Journalism
Journalism and Law
Broadcast Journalism
Writing Internship in Media
Reporter in the Story
Sports Journalism
The Feminist Critique
Music Criticism
Literary Journalism
Ethical and Critical Issues in Journalism
Journalism and New Media

The program challenges and encourages its students:

To acquire fluency in journalism's fundamental reporting and writing skills
To instill information and media literacy
To practice and critique digital modes of journalism
To employ an interdisciplinary lens to critique the journalist's role in the media and the media's role in society
To produce journalistic narratives through project-based learning e.g.; Los Angeles as subject
To understand the ethical guidelines and laws that govern journalism
To understand the history of literary practices and the history of journalism as a unique field of writing
The ability to analyze and create within one or more literary and journalistic modes or genres

Students can begin their Major their first year or declare it later. They learn the foundations of reporting and writing journalism in their first two years, and explore journalism as a literary practice through foundational English courses. In their third and fourth year students learn new technological tools for storytelling, explore the ethical and critical issues that affect journalism, and begin their specialization in modes of practice or content focus. They also begin to develop specific projects drawing on LA-based subjects, culminating in a long-form capstone project their senior year. The Major also requires hands-on experience via either an off-campus internship or work with campus media.

A student wishing to declare the Journalism major must be in good academic standing with a minimum GPA of C (2.0).


See B.A. Curriculum.

Open to all majors. Students who wish to major in English and minor in

Journalism

may double count one course.

20 semester hours of coursework with a C (2.0) or better in each class. Two courses are required: 1) JOUR 2100 Language of Journalism, and 2) JOUR 3300 Critical and Ethical Issues in Journalism. In addition, students must take three Journalism electives, equivalent to 12 semester hours, which can include JOUR 2210 Writing for Journalism or any other JOUR course. The lower division requirement (JOUR 2100) will give Journalism minor students the foundation for further study, acquaint them with journalistic formats, and teach them the fundamentals of reportage and news literacy, essential tools for all apprentice journalists. Students may be exempted from taking JOUR 2100 and enroll in JOUR 2210 Writing for Journalism: Workshop instead, if they can demonstrate (via résumé and portfolio) significant secondary or post-secondary journalism proficiency and experience. A course list follows:

Two Required Courses (8 semester hours):

JOUR 2100 Language of Journalism 4 semester hours
JOUR 3300 Critical and Ethical Issues in Journalism 4 semester hours

Three Journalism Electives (12 semester hours):

Course options include but are not limited to:

JOUR 4465 Arts and Culture Journalism 4 semester hours
JOUR 5511 Political Journalism 4 semester hours
JOUR 4471 Sports Journalism 4 semester hours
JOUR 5591 Literary Journalism 4 semester hours
JOUR 4472 Video Journalism 4 semester hours
JOUR 4401 Telling Stories with Sound 4 semester hours
JOUR 4407 Investigative Reporting 4 semester

The program challenges and encourages its students:

To acquire fluency in journalism's fundamental reporting and writing skills
To instill information and media literacy
To practice and critique digital modes of journalism
To employ an interdisciplinary lens to critique the journalist's role in the media and the media's role in society
To produce journalistic narratives through project-based learning e.g.; Los Angeles as subject
To understand the ethical guidelines and laws that govern journalism
To understand the history of literary practices and the history of journalism as a unique field of writing
The ability to analyze and create within one or more literary and journalistic modes or genres