GPI Career Spotlight: Peace Corps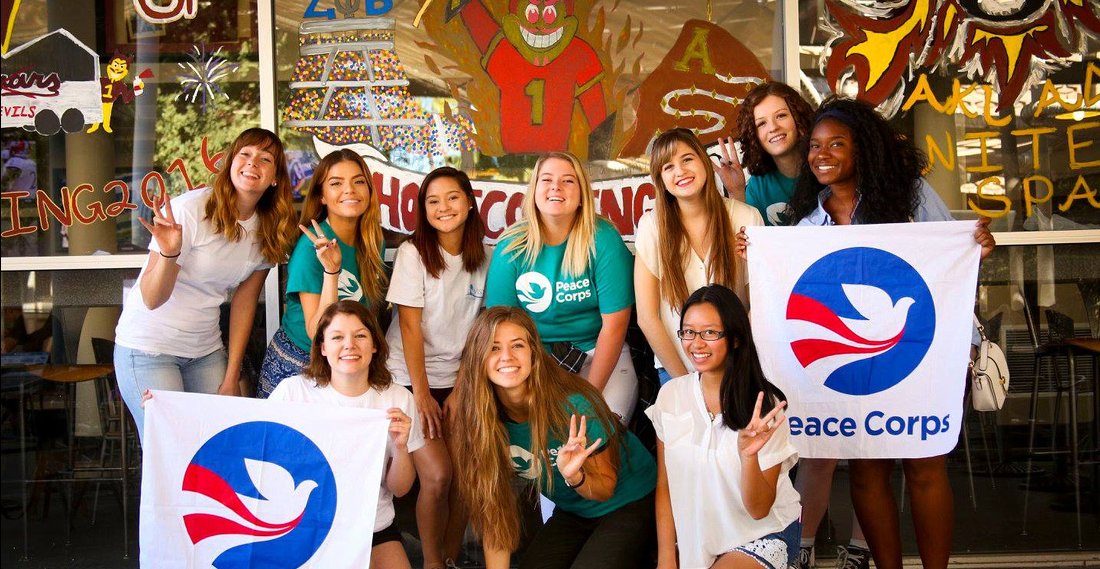 GPI Career Spotlight: Peace Corps
Thursday, Dec. 2, 2021 | 4 p.m. PST
GPI Career Spotlight: Peace Corps

The LMU Global Policy Institute is pleased to host the Peace Corps as part of the GPI Career Spotlight Initiative. The Peace Corps is a US government agency that sends US citizen volunteers abroad for 27 months to do grassroots projects in six different sectors of work (Agriculture, Community Economic Development, Education, Environment, Health, and Youth Development). By sending trained volunteers, Peace Corps aims to reduce global inequality and create valuable cultural exchange between the United States and its partner countries.

The first half of the event will highlight the ways LMU students can apply for various volunteer opportunities for Peace Corps through a presentation by Sakeena Ali, the Los Angeles regional Peace Corps recruiter. The second half of the event will provide opportunities for prospective volunteers to ask questions about the Peace Corps experience and the Peace Corps application.

This event is part of the GPI Career Spotlight Initiative. This initiative invites professionals in international relations and global policy to talk about their careers and experiences. The initiative aims to provide LMU students with ideas of professional pathways in international relations and global policy, and hopes to inspire the next generation of global citizens to become changemakers in their lives after the Bluff.

About Loyola Marymount University

LMU is a private Catholic university with 6,000 undergraduates, 2,200 graduate students and 1,100 law students from diverse backgrounds and many perspectives. Our seven colleges and schools boast best-in-the-nation programs in film and television, business, education and more. Our stunning campus in West Los Angeles is a sun-soaked oasis overlooking the Pacific coast and a model of sustainability. We're rooted in the heart of Los Angeles, a global capital for arts and entertainment, innovation and technology, business and entrepreneurship. Our mission is grounded in a centuries-old Jesuit educational tradition that produces extraordinary men and women dedicated to service and social justice. We're proud of more than 85,000 LMU alumni whose professional achievements are matched by a deep commitment to improving the lives of others.

Dr. Sakeena Ali is an educator and a lifelong learner. Her goals are to empower those in need and help others reach their highest potential.

She has been working the education field for 20+ years and has experience with all ages and backgrounds. Her experience working with international students in the US inspires her to continue to learn about others. Her background studying abroad, working in the US and overseas, and visiting 30+ countries brings a unique perspective to her work.

Dr. Ali received her Ed.D. in educational leadership from California State Polytechnic University, Pomona, where her research focused on building professional learning communities within educational organizations to better achievements of students, faculty, and staff.

Growing up with immigrant parents who began their life adventures by moving across the globe gave Dr. Ali the enthusiasm to embrace all that life has to offer. She earned a B.A. in human development and history, with a minor in education, at UC San Diego, where she studied abroad on Semester at Sea. She met people from around the world and learned about their cultures. After graduating, she continued to work internationally, teaching English language skills to cruise ship workers. She subsequently served in Peace Corps Ukraine and completed a TESOL Master's International degree through American University. Shortly after serving she was an English language fellow in Turkey for two years. She has presented at many English Language Teaching (ELT) conferences and facilitated workshops in the US and abroad.

Dr. Ali's love for people and cultures around the world brought her back to Peace Corps, where she helps others gain the opportunity to see and better understand the world they live in. In October 2017, she began as a field- based recruiter for the Los Angeles area, including Santa Barbara and Ventura County. In this role, she presents Peace Corps opportunities through class talks, panel discussions, information sessions, and other events in order to encourage those who have a passion to serve disadvantaged communities abroad. She also meets with individuals to help them through the application process and at times acts as a career mentor. Additionally, she works as a staging facilitator, preparing departing volunteers for an extraordinary two years of service abroad.