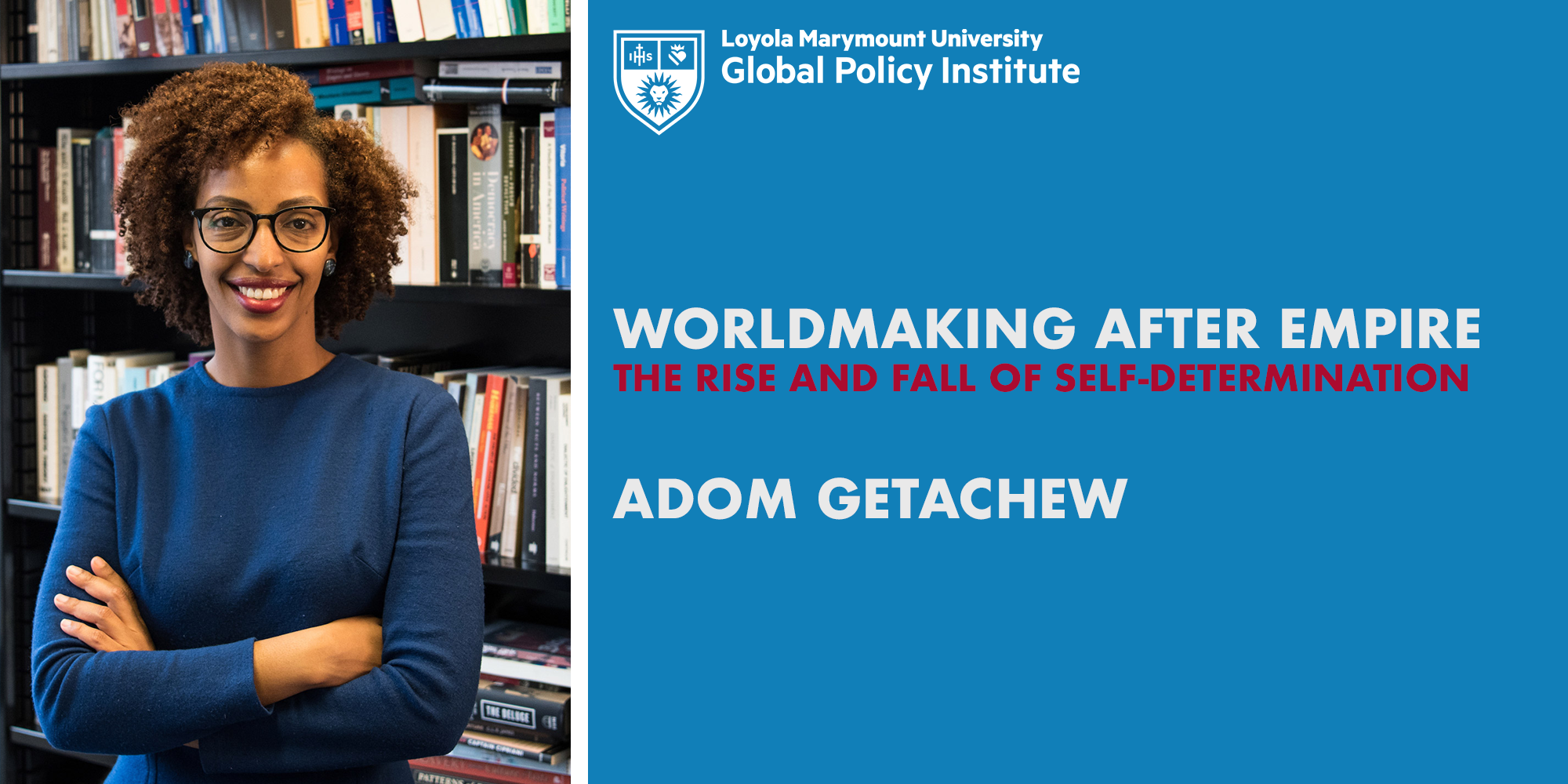 Worldmaking After Empire
2021 Global Policy Institute Book Award, Honoring Adom Getachew
Thursday, February 24, 4 -5 pm PST
Adom Getachew is the Neubauer Family Assistant Professor of Political Science at the University of Chicago. She holds a joint PhD in Political Science and African-American Studies from Yale University. Her research focuses on the history of political thought, theories of race and empire, and postcolonial political theory. She is the author of Worldmaking After Empire: The Rise and Fall of Self-Determination, which reconstructs an account of self-determination offered in the political thought of Black Atlantic anticolonial nationalists during the height of decolonization in the twentieth century.

The LMU Global Policy Institute is pleased to host Adom Getachew for the 2021 Global Policy Book Award. During the virtual ceremony, Getachew will speak on her book Worldmaking After Empire. After her presentation, there will be an audience Q&A to learn more about her work.

About Loyola Marymount University

LMU is a private Catholic university with 6,000 undergraduates, 2,200 graduate students and 1,100 law students from diverse backgrounds and many perspectives. Our seven colleges and schools boast best-in-the-nation programs in film and television, business, education and more. Our stunning campus in West Los Angeles is a sun-soaked oasis overlooking the Pacific coast and a model of sustainability. We're rooted in the heart of Los Angeles, a global capital for arts and entertainment, innovation and technology, business and entrepreneurship. Our mission is grounded in a centuries-old Jesuit educational tradition that produces extraordinary men and women dedicated to service and social justice. We're proud of more than 85,000 LMU alumni whose professional achievements are matched by a deep commitment to improving the lives of others.

"Worldmaking after Empire: The Rise and Fall of Self-Determination"


Decolonization revolutionized the international order during the twentieth century. Yet standard histories that present the end of colonialism as an inevitable transition from a world of empires to one of nations—a world in which self-determination was synonymous with nation-building—obscure just how radical this change was. Drawing on the political thought of anticolonial intellectuals and statesmen such as Nnamdi Azikiwe, W.E.B Du Bois, George Padmore, Kwame Nkrumah, Eric Williams, Michael Manley, and Julius Nyerere, this important new account of decolonization reveals the full extent of their unprecedented ambition to remake not only nations but the world.

Adom Getachew shows that African, African American, and Caribbean anticolonial nationalists were not solely or even primarily nation-builders. Responding to the experience of racialized sovereign inequality, dramatized by interwar Ethiopia and Liberia, Black Atlantic thinkers and politicians challenged international racial hierarchy and articulated alternative visions of worldmaking. Seeking to create an egalitarian postimperial world, they attempted to transcend legal, political, and economic hierarchies by securing a right to self-determination within the newly founded United Nations, constituting regional federations in Africa and the Caribbean, and creating the New International Economic Order.

Using archival sources from Barbados, Trinidad, Ghana, Switzerland, and the United Kingdom, Worldmaking after Empire recasts the history of decolonization, reconsiders the failure of anticolonial nationalism, and offers a new perspective on debates about today's international order.