2023 Mary Milligan, R.S.H.M. Lecture in Spirituality featuring Mary Catherine Hilkert, O.P.
"A Time to Keep Silence and A Time to Speak"
In today's political and ecclesial climate, wise leaders and prophetic speech are needed more than ever. As Catherine of Siena lamented in her own 14th century time of turmoil, "it is silence that kills the world"; yet her deepest desire was for contemplative prayer and union with God. In that same spirit, this lecture will explore the vital link between contemplation, speech, and action. Particular attention will be given to the voices of women in the Christian Tradition and the call, widely echoed in current synodal listening sessions, for recognition of how the many gifts of the Spirit bestowed in baptism are essential to the Church's preaching mission and prophetic witness in our day.
Thursday, March 23, 2023 | 7:00 pm PST
Loyola Marymount University
Roski Dining Room

About Mary Catherine Hilkert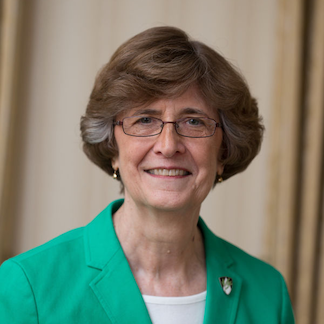 Mary Catherine Hilkert, O.P., is Professor of Systematic Theology at the University of Notre Dame where she specializes in the areas of theological anthropology, fundamental theology, Christology, and feminist theologies and spirituality. She is the author of Naming Grace: Preaching and the Sacramental Imagination, Speaking with Authority: Catherine of Siena and the Voices of Women Today, and numerous articles on contemporary theology, preaching, and spirituality as well as coeditor with Robert J. Schreiter of The Praxis of the Reign of God: An Introduction to the Theology of Edward Schillebeeckx. A former president of the Catholic Theological Society of America, Sr. Hilkert has lectured and preached in Catholic and ecumenical contexts in the United States, Canada, Ireland, Belgium, The Netherlands, Australia, and South Africa. A member of the Dominican Sisters of Peace, she has also served on two international preaching commissions of the Order of Preachers.