Graduate Advisors and Peer Advisors
Connecting with our Graduate Advisors and Peer Advisors is a great way to build community and get another student's perspective. Have a quick question and want to connect with a Peer Advisor? Drop into BCLA's Virtual Office Hours to say hello! Check out these great resources created by our Peer Advisors to help you in your LMU journey:
Jacob Longini, Graduate Advisor
Jacob Longini completed his English B.A. here at LMU and is now a graduate student in the English M.A. program. Jacob enjoys reading, surfing, and exploring Los Angeles with his friends.
Skyla Santacruz, Graduate Advisor
Skyla Santacruz completed her B.A. in Literary Studies from California State Polytechnic University Pomona and is currently pursuing her M.A. in Rhetoric and Composition at LMU. In her free time, she enjoys playing video games, drawing, and playing with her cat.
Damian Aguilar, Graduate Advisor
Damian Aguilar received his Bachelor's degree in English, Creative Writing from Channel Islands and is currently in the English program to complete his Masters degree. He enjoys quality time with his family, reading, writing, and working on cars.
Natalie Riddick, Peer Advisor
Natalie Riddick is a Senior History major and Dance minor who is passionate about social justice and the arts. On-campus, she has become the treasurer of the student-run club Theater in Color and a member of the Ignatians Service Organization. Natalie enjoys reading and spending time exploring LA with her friends in her free time.
Sebastian Ibarra, Peer Advisor
Sebastian Ibarra is a sophomore History major at Loyola Marymount University, from Claremont, California. He wishes to become an American history professor that can teach future generations. In his free time, Sebastian loves to go on hikes with his dog, play video games with his family members, watch films, and read a good book.
Sabrina Isaacs, Peer Advisor
Sabrina Isaacs is a Psychology major with a concentration in Pre-health from Central Florida. She's also a member of the Opportunes, an on campus all female A Cappella group. In her free time, she likes to make music, sing, and watch movies.
Cameron Freestone, Peer Advisor
Cameron Freestone is a senior Political Science and Environmental Studies double major. He is from Orange County, California. Outside of school, he hoops at the Burns Rec Center and is an avid Las Vegas Raiders and Golden State Warriors fan.
Kate Burckle, Peer Advisor
Kate Burckle is a sophomore Philosophy major from Salt Lake City, UT. She is a member of the Phi Alpha Delta Pre-Law Fraternity, the Honors Program, and Alpha Chi Omega. In her free time, she enjoys going to the beach and painting.
Olivia Lamb, Peer Advisor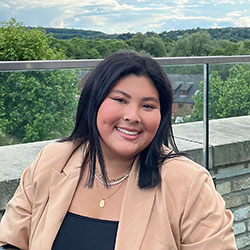 Olivia Lamb is a Sophomore Political Science major from San Francisco, California, with a passion for social justice and advocacy. She is the Chair of Demonstrations and Protests for Women in Politics and loves spending time with family and friends, listening to music, reading, traveling, and exploring LA.
Alexandra Pacheco-Santana, Peer Advisor
Alex Pacheco is in her third year at LMU as a Political Science major with a Screenwriting minor. She loves to make dinner for her friends and family and dance. She is excited to meet new people through being a Peer Leader.
William Dickens, Peer Advisor
William Dickens is a junior political science major. He is from Beverly Hills, California. After his undergraduate William intends to go into law school with an emphasis on civil law and one day become a lawyer.
Xitlali Garcia, Peer Advisor
Xitlali Garcia is a sophomore Economics and Environmental Studies double major from Lancaster, CA. She is also a part of the University's Honors Program and serves as an RA for the Honors LLC. On her free time, Xitlali enjoys swimming laps at the pool and dancing alongside Grupo Folklorico de LMU.
Alexa Montonen, Peer Advisor
Alexa Montonen is junior Political Science and Chicana/o and Latina/o Studies double major from Kansas City. She wishes to become an immigration attorney in the future and enjoys dancing, exploring parks, and reading in her free time.
Jackson Nye, Peer Advisor
Jackson Nye is currently a senior history major from Woodland Hills, California. He is a very big Los Angeles Kings and Los Angeles Dodgers fan. He is also a member of the LMU Men's Lacrosse team.